Yang Zhang gains ANS Landis Young Member Engineering Achievement Award
Yang Zhang, Assistant Professor in Nuclear, Plasma, and Radiological Engineering at Illinois and part-time faculty member in the Beckman Institute for Advanced Science and Technology, has won the 2017 Landis Young Member Engineering Achievement Award from the American Nuclear Society.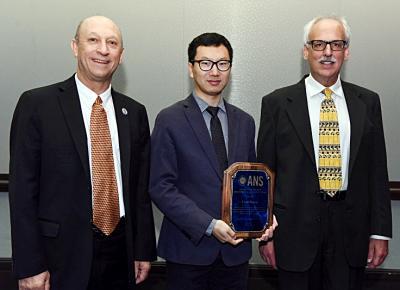 The honor recognizes outstanding achievement in which engineering knowledge has been effectively applied to yield an engineering concept, design, safety improvement, method of analysis, or product utilized in nuclear power research and development or commercial application. The award is restricted to ANS members who are less than 40 years of age at the time of nomination.
Zhang has been cited "for his contributions to nuclear and advanced experimental techniques to understand the complex makeup, nature and performance of materials in the far-from-equilibrium state."
His concentration "is an exciting, emerging area in both understanding long timescale phenomena and rare events in far-from-equilibrium systems and the development of new materials that possess unique properties and have a wide range of potential applications," according to NPRE Department Head Jim Stubbins. "Far-from-equilibrium materials are ones that contain structures that are intentionally designed to highlight specific features by controlling their processing."
An experimentalist, Zhang uses various media, including neutrons, photons, x-rays, and electrons, to probe the structure and dynamics of complex materials. He has directed his efforts to understand the structure of materials that have not settled into their most ordered, or crystalline, structure. Materials in non-equilibrium structure can often provide unique and sometimes enhanced performance properties. Among materials he has considered are new-generation complex alloys and kinetically-trapped soft matter.
In addition to his experimental work, Zhang synergistically combines atomistic materials computations with the experiments. "This works in both directions: the ability to computationally quantify new materials and new materials structures as well as to computationally design new materials structures that could be fabricated to produce new, desired properties," Stubbins said.
Zhang joined NPRE in October 2012 following his appointment as Oak Ridge National Laboratory's Clifford G. Shull Fellow, an internationally competitive distinction awarded to the top scientist conducting neutron scattering research.
He earned his PhD in nuclear science and engineering in 2010 from Massachusetts Institute of Technology, and his bachelor's degree in electrical science and technology in 2004 from the University of Science and Technology of China.
Zhang is the third among NPRE faculty to have been honored with the Landis Young Member Achievement Award from ANS, an 11,000-member society of engineers, scientists, administrators and educators across the country. Associate Prof. Tomasz Kozlowski won in 2015, and Prof. Rizwan Uddin won in 1999.