NPRE Quick Facts
BS, MS and PhD in Nuclear, Plasma, and Radiological Engineering
Master's in Engineering

Energy Systems
Plasma Engineering

Three degree paths:

Plasma and Fusion
Power, Safety and the Environment
Radiological, Medical and Instrument Applications

Five research areas:

Materials Science
Nuclear Power
Plasma Physics and Fusion
Radiological Science
Reliability and Risk
* August 2021-May 2022
23 Bachelor of Science Degrees
11 Master of Science Degrees
9 Master of Engineering Degrees
10 Doctor of Philosophy Degrees
60 Research Assistants
6 Teaching Assistants
13 Combined RA/TA/Departmental Fellowships
9 DOE-1, NSF-2, NRC-5, NASA-1 (and other prestigious national fellowships
1 International Fellowship
13 FTE Faculty Members (1 Assistant; 6 Associate; 6 Full Professors)
Multiple Open Tenure-track Positions
3 Endowed Professorships
2 Research Professors
22 Affiliate/adjunct Faculty
5 Emeritus Faculty
$8.9 M in FY22 sponsored research expenditures
$5.3 million in new awards since August 2021
When you're an electrical engineer, you're behind the electronic systems that we use every day and that are propelling us into the future. You work in areas like energy and power, circuits, optics, remote sensing, communications, networking and computing systems, and much, much more. To learn all this you take classes like signal processing, circuits and electromechanics, and green electric energy. You can do a lot with this degree, including jobs like design engineer, technology analyst, system engineer at companies like Microsoft, GE Energy, Texas Instruments, and Goldman Sachs. Our electrical engineering grads make an average starting salary of $69,881.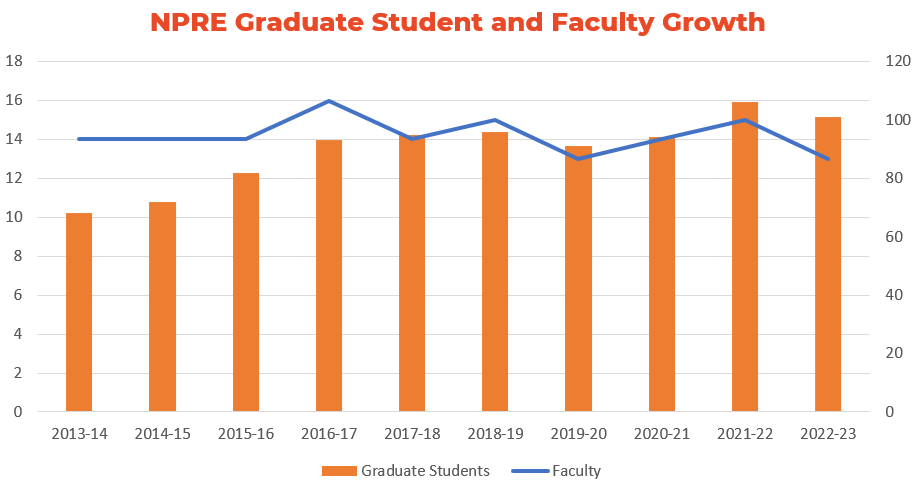 Research Centers, Laboratories and Initiatives
North American Technical Center (NATC), Information System on Occupational Exposure (ISOE) Other three centers are in Vienna, Tokyo, and Paris
Industry-sponsored research for plasma-radiation-material interactions and nuclear power
Growth and Recognition
Recent Industrial Partnerships
Applied Materials
ASML
DuPont
Exelon Corporation
General Fusion
General Motors
LAM Research
Lockheed Martin
Lyten
POSCO
South Texas Project Nuclear Operating Co.
Starfire Industries, LLC
Tokamak Energy
Tokyo Electron Ltd.
National Awards
11 ANS Mark Mills Award (3 in the past 5 years)
10 ANS/IEEE/APS/AVS Fellows
3 ANS Landis Young Member Award
3 ANS MJ Oestmann Award (2015-2017)
3 ASEE Glenn Murphy Award
2 ANS Radiation Science and Technology Award
ANS Arthur Holly Compton Award
ANS Don Miller Award
ANS Outstanding Achievement Award (FED, Mat Sci & Tech Div)
ANS Landis Public Communication and Education Award
ANS Landis Young Member Engineering Achievement Award
ANS Mishima Award
ANS Seaborg Medal
ANS Young Member Excellence Award
AESJ Shorei-Sho Award
AVS Gaede-Langmuir Award
DOE Presidential Young Investigator Award
IEEE Nuclear & Plasma Sciences Award
101
NPRE Graduate Students
41
Master of Engineering
Graduate Students
Enrollments Fall 2022
General Questions
Nuclear, Plasma & Radiological Engineering
Suite 100 Talbot Laboratory, MC-234
104 South Wright Street
Urbana, IL 61801
217/333-2295
fax: 217/333-2906
Plan a Visit
Students and Parents, Interested in Visiting the NPRE Department, The Grainger College of Engineering, or the Illinois campus? Learn more using the links below.
Visit The Grainger College of Engineering