Ribbon finally cut at Talbot Laboratory addition
Recently, the Department of Nuclear, Plasma & Radiological Engineering—in conjunction with its colleagues in the Department of Aerospace Engineering—held the ribbon cutting and dedication of the Talbot Laboratory addition.
It was an event years in the making, delayed by a pandemic, but the occasion was momentous nonetheless.
Before the ribbon cutting, those in attendance heard remarks from Dean Rashid Bashir of The Grainger College of Engineering and University of Illinois interim provost designate William Bernhard, as well as department heads Rizwan Uddin and Jonathan Freund from NPRE and AE, respectively.
"Our vision for this expansion was to develop a state-of-the-art facility, complete with forward-facing educational spaces and instructional labs, that inspire and empower Aerospace Engineering and Nuclear, Plasma and Radiological Engineering students and faculty to be the best in the world at what they do," Dean Bashir said. "Our programs are more adaptive, facilities state-of-the-art, research bolder and our legacy arguably matchless."
In his remarks, Uddin mentioned the contributions of late professors Roy Axford and Barclay Jones, whose scholarship and leadership were crucial to NPRE's departmental development over the decades.
"On behalf of both departments, I'd like to once again thank our university and campus leaders for their support in helping bring this project to fruition," Uddin said. "I would also like to thank all the donors who gave so generously to make this possible. This project is truly transformative for our departments and will benefit generations of students for many years to come."
The addition includes labs, research areas and conference rooms for both departments. NPRE's portion gives its students state-of-the-art instructional laboratories in radiation measurement and nuclear materials and gives the department new administrative offices.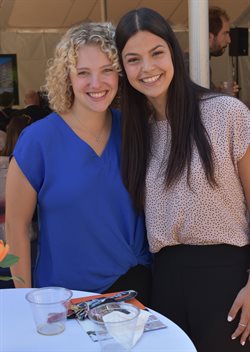 Holding the ribbon for NPRE were Uddin, professor and former department head James Stubbins, assistant professor Angela Di Fulvio, and undergraduate students Madeline Morasca and Nataly Panczyk.
Watch the full ceremony and view a video of the actual ribbon cutting.