Sullivan Develops Radiation Detectors Using Google Glass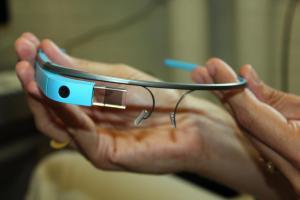 With Google Glass, you can navigate an airport, figure out what to cook for supper, or collect facts on a nearby landmark just by wearing and looking through Google's special glasses. NPRE Assistant Prof. Clair Sullivan believes the technology also could be a big help for first responders in detecting radiation.
Military personnel, policemen and firemen often carry 40 pounds of equipment on them, and aren't anxious to add to that weight. But, said Sullivan, "The real estate of their eyes is not going to be used by them."
"We have all this information (that radiation sensor network can potentially provide), but how are we going to convey that to the people that really need it?" she asked. Google invited Sullivan to become a Google Glass Explorer, which is a beta tester for the product to help resolve that question.
The see-through, heads-up display that Sullivan is developing with Google Glass will provide emergency personnel with real-time information about possible nuclear and/or radiological threats, she said. As they walk about, the responders will see in the glass a small display that will reveal radiation levels to them.
Once alerted, the emergency workers can gain further information using the device's Global Positioning System, and can report on the situation using the device's built-in phone system and Gmail account. Google Glass also can detect audio commands from the wearer, Sullivan said.