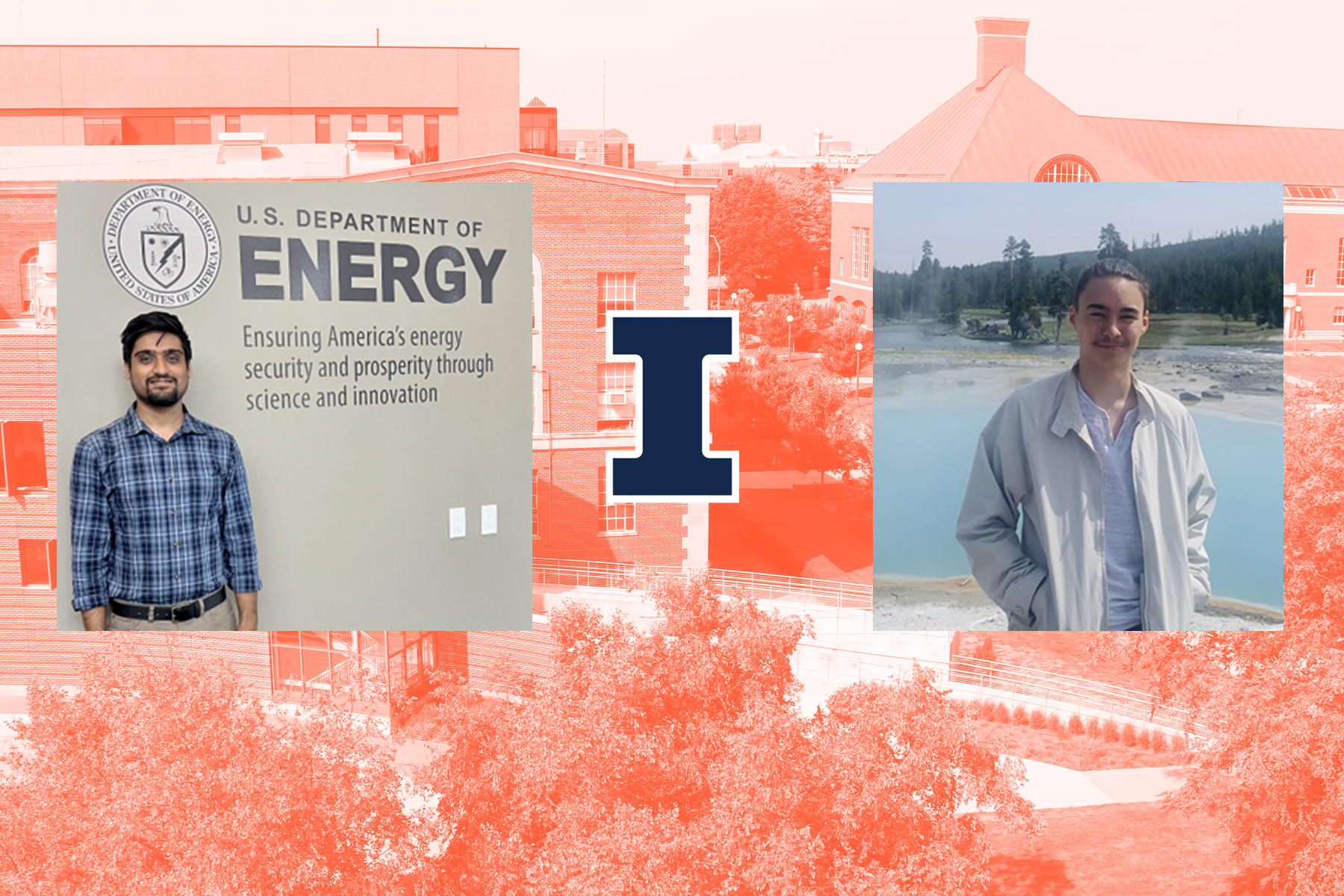 Recently, two NPRE students from the Socio-Technical Risk Analysis (SoTeRiA) Research Laboratory were invited to attend the Nuclear Education, Skills, and Technology (NEST) Small Modular Advanced Reactor Training (SMART) Programme Microreactor Deployment Workshop of the Organization for Economic Co-operation and Development-Nuclear Energy Agency (OECD-NEA), hosted by the Idaho National Laboratory in Idaho Falls, Idaho.
Students Hammad Khalid and Riley Fisher, who both conduct research with SoTeRiA, were among the 30 students who were invited to this workshop to discuss and work through the major issues facing microreactor deployment around the world. The objective of the workshop was for groups of students to design and present a microreactor deployment scenario, with supplemental lectures from academia, national lab, industry professionals and facility demonstrations. Present throughout the week were students and mentors from the United States, Canada, Germany, and Italy, which facilitated international collaborations that strengthened the connections among the students.
Khalid, a PhD student, was awarded top prize for his group's microreactor deployment scenario. Focusing on the deployment of a five-megawatt high-temperature gas reactor, designed by Ultra Safe Nuclear Corporation, Hammad's group aimed to eliminate the dependency of imported diesel in Nome, Alaska.
"We explored numerous possibilities to address the major environmental and economic considerations associated with the site and the project. We developed a case study that focused on population engagement in Nome, Alaska, to gauge and improve the perception of nuclear technology, particularly of micro modular reactors (MMRs), in their local community," Khalid said. "I was fortunate to be a part of a group comprising multidisciplinary experts such as social scientists, environmentalists, and engineers; getting insights from them and using these to execute this project was a big leap forward for my skills. I was tasked with developing a risk informed methodology to address risk and mitigation plans for our project."
Fisher, an undergraduate student, was awarded third prize for his group's deployment scenario. The group utilized a 5 MW heat-pipe reactor, designed by Westinghouse Electric Corporation, to provide an alternative to the delayed geothermal plant project in Unalaska, Alaska. "Within our preliminary research, we learned about the Unalaskan community's problems with getting their geothermal plant off the ground and thought this would be a fitting community to pilot a microreactor," said Fisher. "Within my group of five, I was tasked with creating a risk assessment and mitigation plan for the reactor, along with researching regulations. This was my first time putting together a risk assessment for a power plant, and the focus and work my group put into it paid off. Working on a project that had such a strong emphasis on collaboration among people of different backgrounds and areas of expertise really made for an incredible experience."
The director of the SoTeRiA research Laboratory, NPRE Associate Professor Zahra Mohaghegh, and SoTeRiA Research Scientist Dr. Ha Bui also supported this NEST workshop by conducting a lecture on "Regulatory Approaches for Deployment of Advanced Reactors."
"This summer workshop created valuable learning and teamwork opportunities for students, training the future workforce for advanced reactors," said Prof. Zahra Mohaghegh.