NPRE student helps develop winning startup in Nuclear Innovation Bootcamp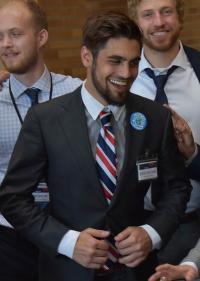 Aries Loumis, a Department of Nuclear, Plasma, and Radiological Engineering at Illinois undergraduate, was a member of the winning team in the Nuclear Innovation Bootcamp that encourages student entrepreneurial thinking in design projects using nuclear energy.
Titled "Nuclear Upended," the inaugural boot camp, held in August 2016 at the University of California-Berkeley, brought together 25 students from nine countries to learn about nuclear energy's role in business development. With the help of mentors in nuclear industry and academia, the students divided into five teams to compete in the challenge of designing their own startup companies.
Loumis's team, Auzel, chose to develop technology for nuclear power plants to harvest energy from nuclear waste storage casks. The team worked on the premise that captured energy could be used as a backup power supply in times of emergency at the plants, or, during non-emergency periods, be used to reduce the plants' draw from the grid.
The design of the Auzel team, which included students from Purdue University, the Imperial College of London, the University of Missouri-Columbia and UC-Berkeley as well as Loumis, used photovoltaic cells to capture energy from infrared light emitted from the waste casks.
Auzel's business plan showed the company would break even in 7.6 years, and that customers buying the product would save money after 15 years. "I think the timespan would be fine because of the lifetime of the reactor in general," Loumis said, while also noting the technology's safety benefits of providing plants with backup power in case traditional power is lost.
Loumis's senior design project in Spring 2016 had a similar goal as the Auzel work, but his idea varied in that energy would be collected and harvested from the updraft of heat rising from nuclear waste storage casks. The work earned him second place in the poster competition at the American Nuclear Society (ANS) Student Conference last spring.
Loumis and the other Auzel members are discussing possibilities of pursuing the startup further. Meanwhile, he and another partner are pursuing technological development with his senior design project idea.
The boot camp was extremely worthwhile, Loumis believes. "I feel like the nuclear world is somewhat at a standstill in terms of innovation because of all the high regulations and fear regarding nuclear," he maintained. "I wanted to join the movement of the next generation of innovators and promote change within the nuclear community."