NPRE Alumni and Friends Pay Tribute to Barclay Jones; First Jones Fellowship Presented
Cited for his leadership and commitment in guiding nuclear engineering education the past 50 years at the University of Illinois, Prof. Barclay G. Jones has been presented with the 2010 NPRE Distinguished Alumni Award.
Note: More images from this event are now available in the image gallery.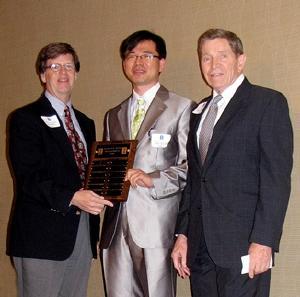 Several NPRE students, alumni, colleagues and other friends offered Professor Jones their thanks and congratulations during the presentation at this year's Honors Banquet, held April 29. The evening also featured the awarding of the inaugural Jones Fellowship to Professor Jones' student, Hyun-Jong Joe, and University of Illinois Alumni Association Loyalty Awards for Exceptional Alumni Service were presented to Terrill R. and Deborah A. Laughton for their tireless efforts in the successful campaign to endow the Jones Fellowship.
"Barclay has helped define this Department throughout its history, in both the good times and the not-so-good." said Department Head James F. Stubbins. "He is a model for integrity in both science and education, and his devotion to our students is second to none. I can think of no one more deserving than Barclay for this honor."
NPRE 2010 Distinguished Alumni Award
Jones, MS 60, PhD 66, earned his bachelor's degree in Mechanical Engineering in 1954 from the University of Saskatchewan. After working at Atomic Energy of Canada, Ltd., he spent two-and-a-half years in Great Britain as an Athlone Fellow at the English Electric Company, in Rugby, England, and the Atomic Energy Research Establishment at Harwell, England, becoming a trained reactor operator. Returning to Canada, he worked at Canadair, Montreal, and then Westinghouse Atomic Power in Pittsburg. In the fall of 1958 he enrolled at the University of Illinois for what was thought to be a short stay.
Working with Mechanical Engineering Professor Bei Tse Chao, Jones earned a master's in 1960. Following the Nuclear Engineering PhD degree program's formal approval in fall 1960, he was encouraged to continue study in NE and did so a year later. In spring 1963, Jones began his teaching career at Illinois, and was hired as a full-time faculty member in the fall. When Chao left the country for several months during this time, Jones took over teaching his peers in a graduate-level heat transfer course. In 1966 he finished his PhD program and became an assistant professor. He was promoted to associate professor in 1968 and full professor in 1972.
Jones served as Associate Chair of the Nuclear Engineering Program from 1981 to 1986, and was Acting Head of the newly formed Nuclear Engineering Department for a year, then served as permanent Head from 1987 to 2000. He was honored as one of the founders of the Department when its 50th anniversary was celebrated in September 2008.
His research interests have included thermal-hydraulics, reactor safety, multiphase flow, boiling heat transfer, turbulence measurement and modeling, flow-induced vibrations and aeroacoustics, human-machine interfaces for reactor control and simulation, and food irradiation safety. Among his contributions were the development of an experimental apparatus to look at the behavior of suspended particles in turbulent pipe flow, and the development of an instrument measuring local fluctuating static pressure. Jones also led the design of the reactor coolant system for the University of Illinois's Advanced TRIGA Reactor.
Jones is a Fellow of the American Nuclear Society, a faculty initiate of Tau Beta Pi, and an Honorary Member of Alpha Nu Sigma. His honors include the 2000 Glenn Murphy Award from the American Society of Engineering Education, the 1998 NPRE Outstanding Professor Award, the 1991 Power Engineering Educator Award from the Edison Electric Institute, and the 1982 Halliburton Education Leadership Award.

Jones said of this latest honor, "I am humbled and very pleased to be receiving this award. It marks more than a half-century of my association with the University and the NPRE department. It started with having several professors at the University of Saskatchewan who were alumni of Engineering at Illinois. When I returned from the United Kingdom and was searching for Nuclear Engineering graduate study; the fledgling program at the University of Illinois topped the list. The rest is history and it chronicles a very satisfying and challenging career, which continues to this day. With the strength of our student body and colleagues in the department, college and across the campus, the U of I provides a rich environment in which to contribute. I continue to be blessed -— thank you!"
Barclay G. Jones Endowed Fellowship
NPRE is pleased to present the inaugural Barclay G. Jones Fellowship to Korean native Hyun-Jong Joe, who earned an MS in NPRE in 2002, and a BS in industrial engineering in 1997 from Dongshin University in Korea.
"I am so lucky to have Prof. Jones as my advisor with his patient guidance through the years," Joe said. "At the same time, I highly honor the Jones Fellowship upon his contribution on research and education for more than four decades. Finally, I appreciate to become the first recipient of the award."
Joe's research has focused on the passivity breakdown and CRUD growth on zircaloy cladding of PWR. While much effort has been focused on finding the causes of Axial Offset Anomaly (AOA), a detailed understanding has not yet been developed because of the complexity of its causes. Porous CRUD deposits on zirconium oxide in the form of the non-stoichiometric nickel-ferrite (FexNi3-xO4) have been observed on the Zircaloy cladding surface of the subcooled boiling length of fuel rods.
Joe's research examines the effect of radiolysis upon passivation breakdown of zirconium oxide and crud growth on the top of the oxide, and also, the effect and the concentration of electroactive radiolysis products (H2, O2, and H2O2) within the CRUD. He investigates the solute transport of molecular hydrogen, oxygen, and hydrogen peroxide, which are the most stable radiolysis products that directly affects 1) oxidation-reduction reactions at an interface of crud/cladding and 2) formation of nickel ferrite within the CRUD deposit.
This investigation employs the principles of thermal hydraulics and chemical reactions in the micro structures of the CRUD.
This Fellowship has been made possible through the many NPRE alumni and friends who have paid tribute to Professor Jones by endowing the fellowship fund in his name. This is the first fellowship held entirely within NPRE, and to all our supporters we offer a hearty thank you.
Ode to Jones
NPRE Student Dieter Brommer delighted the audience gathered for the 2010 Honors Banquet by delivering this poem he composed in tribute to Professor Jones:
From his kind salutations
To his deep knowledge of differential equations
I speak of a professor whose door never shuts
He is always there ready when a question erupts
It's clear that it is his passion to teach
And of the benefits of nuclear power he's not afraid to preach
I consider it a honor to have been in his class
Beyond just the benefit of knowing the transfer of heat and mass
To a great inspiration I propose this toast
Professor Jones, you deserve this the most