Micro-reactor project continues pace toward becoming a reality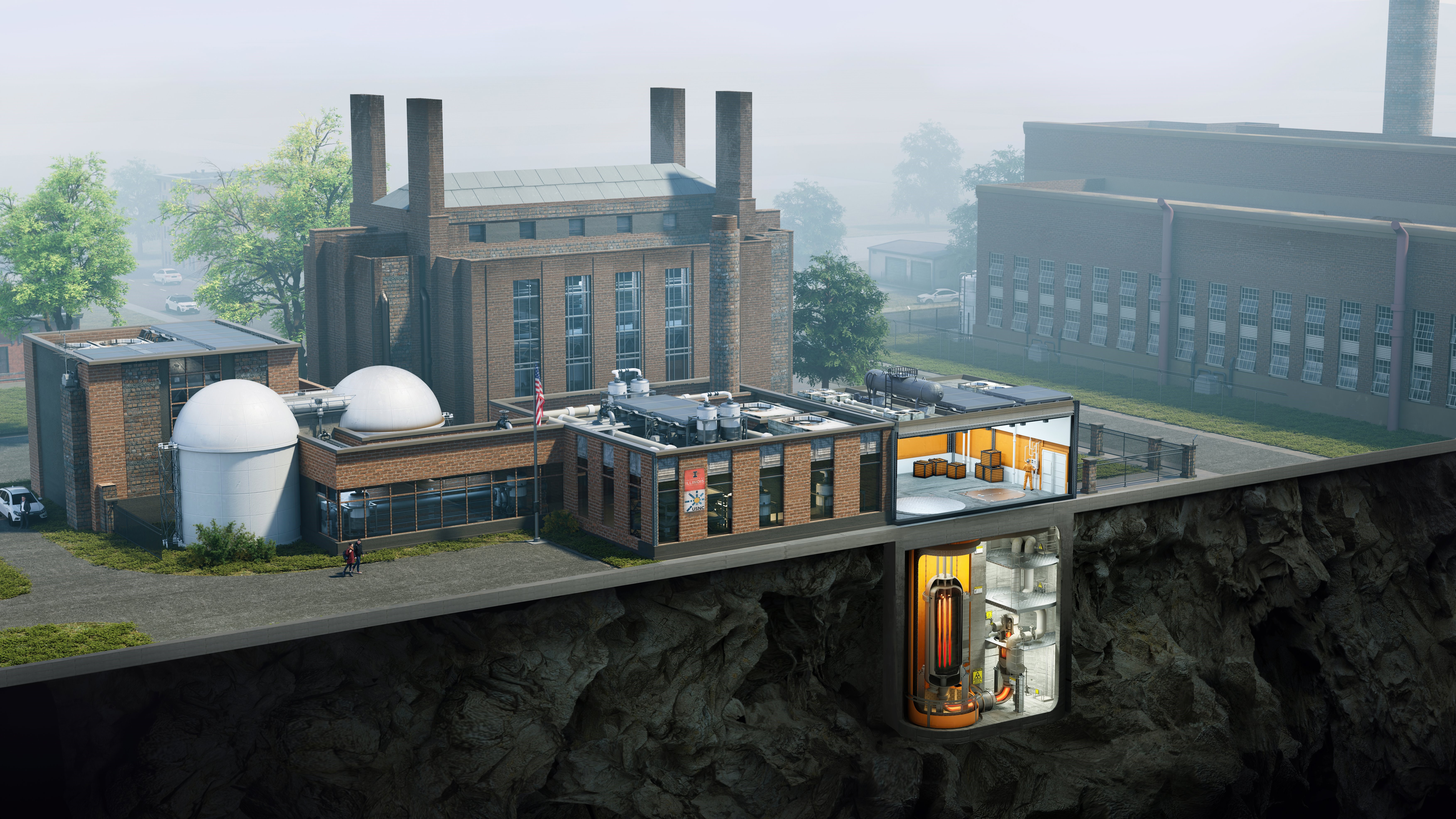 A potential nuclear reactor returning to the University of Illinois campus is still a long way away, but the project continues to move forward.
Over the summer, UIUC submitted a Letter of Intent to the U.S. Nuclear Regulatory Commission (NRC) to apply for a license to construct a research and test reactor facility on the UIUC campus. The submission of the Letter of Intent was the first step in NRC's two-step process to license a new reactor, including a process of public hearings on the proposed project for full transparency. The first of those meetings was held in October.
The University's Grainger College of Engineering (and its Department of Nuclear, Plasma, and Radiological Engineering), in collaboration with Ultra Safe Nuclear Corporation (USNC), is spearheading the new reactor deployment.
The next steps include submitting a Regulatory Engagement Plan soon to the NRC and having a formal Memorandum of Understanding in place with USNC.
NPRE's efforts are led by associate professors Caleb Brooks and Tomasz Kozlowski, with assistance from Professor Jim Stubbins. Recently joining the project are Clive Townsend, who served as a supervisor for Purdue University's reactor, and NPRE adjunct professor William Roy, an expert in nuclear waste management. The department also has a large cohort of undergraduate students working on the activities necessary for an environmental review.
The new research and test reactor facility will offer UIUC staff and students a diverse set of opportunities for research: instrumentation and control (I&C), multi-physics validation, reactor prototype testing, micro-grid operations, cybersecurity, hydrogen production for transportation and energy storage, and other energy intensive, high-value products.
"Students and researchers will learn at the cutting edge of advanced clean energy technologies, and the integration of those technologies," Brooks said. "The reactor will enable a breadth of education, training, research, and outreach around interconnection of various clean energy strategies already being demonstrated on campus."
"This impressive project takes advantage of the diversity of expertise and spirit of innovation across all relevant areas of science and technology at the University of Illinois," said Susan Martinis, vice chancellor for research and innovation at the University of Illinois Urbana-Champaign. "We know that Illinois ingenuity will play an important role in advancing the technology that makes microreactors safe, versatile, and cost effective."
The university plans to partially re-power its fossil fuel-fired Abbott power station with the Ultra Safe Nuclear Micro Modular Reactor (MMR™) Energy System, providing a zero-carbon demonstration of district heat and power to campus buildings as part of its green campus initiative. The project team aims to demonstrate how microreactor systems integrate with existing fossil fuel infrastructure to accelerate the decarbonization of existing power-generation facilities.
"Nuclear energy and microreactor technology are poised to play an important role in building a cleaner and more sustainable future," said Rashid Bashir, dean of The Grainger College of Engineering. "This proposed reactor continues our proud tradition of leading academia in the pursuit of safe, transformative nuclear technologies, and enables us to innovatively train and develop the next generation workforce to lead the nation's new economy."
In addition to supporting the university's clean energy goals, the microreactor will serve as a valuable workforce training tool for a new generation of nuclear scientists, engineers, and operators. "Universities have nearly 80 years of pioneering nuclear reactor technology and safely operating nuclear reactors. UIUC's TRIGA reactor operated for 38 years with a site license in the heart of campus before decommissioning and returning the site to greenfield," said NPRE department head Rizwan Uddin. "Next generation energy research facilities are critical to training the emerging clean-energy focused workforce."
The submission of the Letter of Intent to the NRC was the first formal step toward pursuing a construction permit and ultimately obtaining an operating license. The proposed reactor, designed by U.S.-based Ultra Safe Nuclear Corporation, is a GEN-IV High Temperature Gas-cooled Reactor (HTGR). The Ultra Safe Nuclear MMR features the industry's most mature high-temperature gas cooled technology and a design that is inherently safe.
"The University of Illinois provides a unique environment for innovation in research and education combined with the opportunity of commercial-level implementation on a scale that is ideal to our micro reactor product," said Francesco Venneri, USNC's CEO. "We expect the licensing process to be exceptionally comprehensive and open to public review and comment, exactly as it should be."
The State of Illinois is no stranger to nuclear power and the community is as educated on the benefits and challenges of nuclear power as any you will find in the country. The project team has spent the last two years engaging with the university and surrounding community; local, state, and federal governments; and potential industry partners. The docketing of these efforts with the NRC will help the team continue to provide transparency of the project status.