NPRE Associate Prof. Ling Jian Meng and his group have built a nuclear imaging device that can produce an ultrahigh imaging resolution and can work inside a magnetic resonance imaging (MRI) scanner.
The hybrid magnetic resonance and single photon emission-computer tomography system (MR-SPECT) provides an imaging resolution of 300 to 500 microns, Meng said. "The previous best was 2 to 3 millimeters."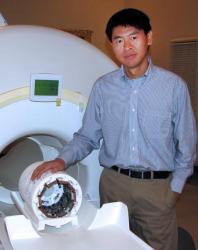 Using the device within an MRI allows scientists to view two complementary images simultaneously: the MRI produces a structural image, while the MR-SPECT provides functional images, such as the spatial variation in uptake of a radiolabeled drug inside a living animal.
"This has been the result of five years of research," Meng said of the device that he and his students have built from scratch.
"Supported by several grants from sources such as NCI (National Cancer Institute), DOE (Department of Energy) and NIBIB (National Institute of Biomedical Imaging and Bioengineering), we started from developing a novel gamma ray imaging detector."
Technological knowledge gained from other projects, such as the development of a focal plan detector for a National Aeronautics and Space Administration (NASA) satellite mission, also aided in the MR-SPECT device project, so Meng estimated the total investment for the development to be about $2.5 million.
"This system is unique in the sense that it leverages the state-of-art detector technology," he said. "This leads to the highest spatial resolution available with MR-compatible nuclear imaging systems."

The current device is equipped with 10 gamma ray detectors arranged in a circle in a donut-shaped plastic holder designed to fit inside an MRI machine. The design enables a tomographic view of samplings without moving the imaging system, Meng said.
The device can play an important role in disease diagnosis, drug delivery and therapy monitoring. In the near term, the MR-SPECT device can be used to image pancreatic beta cells to diagnose early signs of diabetes, or track T cells – white blood cells that play a central role in cell-mediated immunity – to watch their movement in attacking cancer cells.
"(The MR-SPECT device) is a very sensitive technique of visualizing radiolabeled drugs, and the MRI provides an exquisite soft-tissue contrast," Meng said. "One can look at where the radiolabeled cell goes inside a small lab animal and at the same time visualize its internal tissues and organs with an exquisite soft-tissue contrast.
"With cutting-edge technology squeezed into an ultra-compact and user-friendly package, the system offers an unmatched imaging performance for monitoring cancer therapy and drug delivery. We would like for it to be in hospitals, as well as in biology and chemistry labs."
Meng's group has been working with colleagues at Washington University in St. Louis, as well as with researchers at the University of Chicago, the University of Michigan, and with several European scientists.