Energy Systems team proposes additional charging stations to increase electric vehicle usage on campus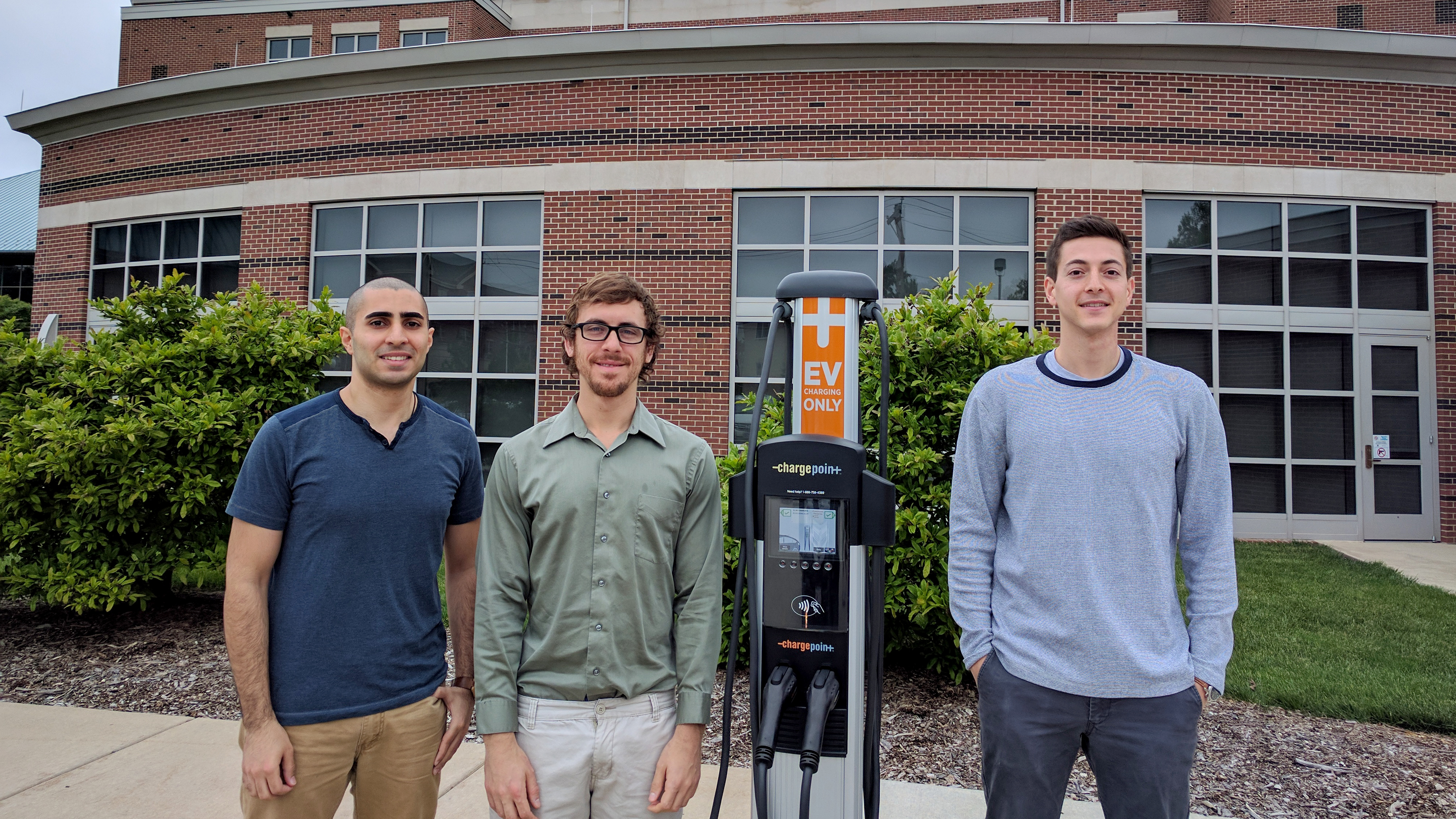 An Energy Systems student project to promote the use of electrical vehicles on the Urbana campus by increasing the number of charging stations available has received University of Illinois Student Sustainability Committee funding.
The Energy Systems master's in engineering program provides a broad interdisciplinary education in energy systems for a variety of professional career-track students. As part of the coursework and to gain experience in all aspects of a project, the program's students are asked to seek funding for their ideas.
The team of Ari Krause, Adam Hijazi and Christopher Guida was successful in their charging station proposal. "We hashed out an idea and, working as a team, completed an (SSC) application that required both technical and feasibility components," Krause said. The SSC, committed to making a positive and lasting impact toward campus sustainability, rewarded the project a $5,000 grant.
"Our real inspiration for the project was that, whenever you go to a big city or some other campuses, there are very obvious signs for electric car chargers," Krause said. "On this campus we didn't see that, so we thought we should change it."
Added Guida, "Not only do electrical vehicles preserve the fossil fuel supply and switch to a more sustainable energy source, but they also improve the state of the students' health" by not adding carbons to the atmosphere.
"We thought this would make the university more attractive to anyone wanting to own an electric car in the future," Hijazi said.
Currently, only four Level 2 chargers have been established on the Urbana campus, with locations at the Alice Campbell Alumni Center, 601 S. Lincoln Avenue; the Krannert Center for the Performing Arts; 500 S. Goodwin Avenue; and the National Soybean Research Center, 625 S. Wright Street. Providing 240 volts of electricity, Level 2 chargers can power an electrical vehicle from zero to 100 percent in about four hours. In comparison, typical wall outlets provide 120 volts of electricity, and take up to 13 hours to fully charge the same vehicle.
The students contacted administrators of five buildings on campus, and gained a positive response for locating two Level 2 chargers at the Transportation Building. The grant can be used to purchase equipment for university crews to have the charging stations installed.
Krause said the team's plan is in line with the Illinois Climate Action Plan (iCAP), which commits the campus to carbon neutrality by the year 2050. Part of the plan calls for phasing out university fleet vehicles and introducing low-emission models or electric vehicles.
"When people start seeing more of these university electric cars driving around, it will be engrained in their minds that electric cars are more of an option," he said.
The team's project is one of a variety of ways that Energy Systems students can approach the practicum requirement for earning the degree. The non-thesis degree is very flexible, and allows students to choose their own path and areas of specialization from a wide array of courses.
For more information on the Energy Systems master of engineering degree program, contact Amy McCullough at amccul2@illinois.edu, or call 217-300-2378.