DOE awards $1M grant for HIDRA plasma/fusion research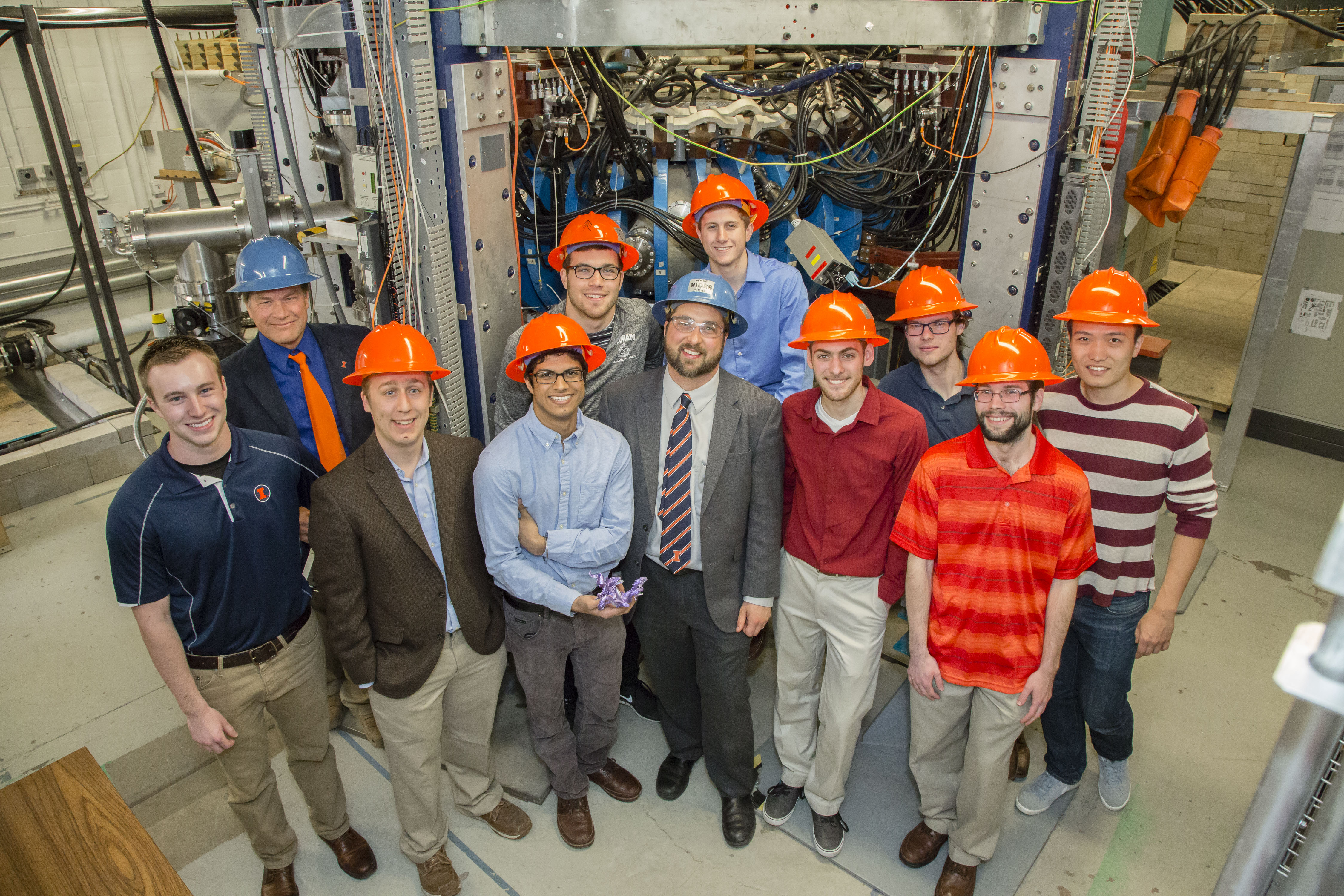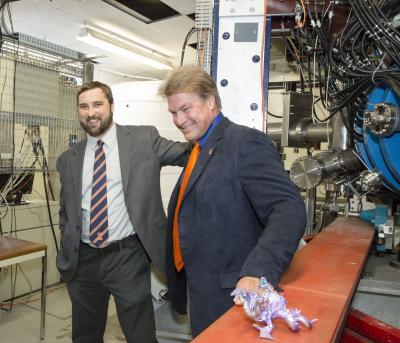 The U.S. Department of Energy has awarded $1.05 million to support use of the University of Illinois
HIDRA
plasma/fusion facility as a test bed for lithium technology in fusion reactors.
The grant, from DOE's Office of Fusion Energy Science, will allow researchers at the Center for Plasma-Material Interactions to more readily conduct experiments needed to advance fusion as an energy source. "This fills a critical need for developing lithium technology," said Daniel Andruczyk, research professor in Nuclear, Plasma, and Radiological Engineering at Illinois and director of HIDRA's operations. "HIDRA will be the stepping stone."
Led by NPRE Prof. David Ruzic, CPMI scientists have been working with molten lithium as a plasma-facing component – the components exposed to the plasma inside a fusion reactor's walls. PFCs are needed for the reactor walls to withstand heat damage and hits from fast-moving particles within the plasma without injecting impurities into the plasma.
Previously, the CPMI team had to negotiate time to conduct experiments on large fusion facilities, such as the HT-7 Tokamak reactor in Hefei, China. A complete experiment on the HT-7, which is about twice the size of HIDRA, could take up to six months. The same work might require only a week on HIDRA, Andruczyk maintains. Plus, he said, the large facilities' operators are at times hesitant to run untested technology on their machines.
"Having a dedicated machine like HIDRA provides huge opportunities because it means that we can test all the technologies first and find all the problems before we try it on a big machine," he said. "This allows us to be more strategic with the experiments. We will be doing more to try to understand the science behind the plasma.
"HIDRA has a lot of ports that we can dedicate to these material tests," Andruczyk continued. "We can build up the diagnostics not only to know what the plasma is doing, but also to know what the materials and surfaces are doing. We will have cameras to look at what's coming off the surface to see the contaminants."
This is the first large government award for HIDRA since it arrived in Fall 2014 and achieved first plasma in April 2016. The grant is part of a $6 million, three-year project conducted with the Princeton Plasma Physics Laboratory and the Chinese Reactor Experimental Advanced Superconducting Tokamak.
"The College of Engineering, and the Office of the Vice Chancellor for Research put great faith in us, extending the funding to bring HIDRA to the University," said Ruzic. "This grant, and others which we expect in the future, show they made a great decision. Once HIDRA became operational, the fusion community sees its unique utility."
Andruczyk foresees scientists both off and on campus requesting time to use the Hybrid Illinois Device for Research and Applications (HIDRA). "I hope to make HIDRA a user facility and develop a whole capability of testing materials like the way MRL (the College of Engineering at Illinois Materials Research Laboratory) works."
Andruczyk also has created a fundamental plasma course through which students with have hands-on opportunities with HIDRA, and which can involve teachers and members of the Champaign-Urbana community. In addition to helping scientists worldwide advance fusion energy and technology, HIDRA will help develop human capital and bolster NPRE's educational mission.
For more information about HIDRA, contact Daniel Andruczyk at andruczy@illinois.edu.