NPRE Distinguished Alumni
The Department of Nuclear, Plasma, and Radiological Engineering is proud to announce the first winners of the NPRE Distinguished Alumni Award:
William E. Burchill, BS 1964, University of Missouri-Rolla;
MS 1965, NPRE; PhD 1970, NPRE; and
Robert L. Hirsch, BS 1958, Mechanical Engineering;
MS 1959, University of Michigan; PhD 1964, NPRE
Dr. Burchill and Dr. Hirsch will be recognized at the NPRE Alumni and Friends 50th Anniversary Dinner at 6:30 p.m., Friday, September 12, 2008, at the Alice Campbell Alumni Center, 601 South Lincoln Avenue, Urbana, IL.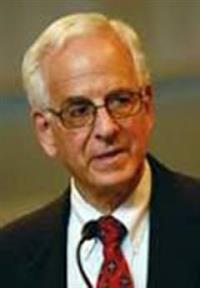 Robert L. Hirsch is a Senior Energy Advisor at MISI and a consultant in energy, technology, and management. His primary experience is in research, development, and commercial applications. He has managed technology programs in oil and natural gas exploration and production, petroleum refining, synthetic fuels, fusion, fission, renewables, defense technologies, chemical analysis, and basic research.
Hirsch has served as a consultant and on advisory committees for government and industry. He holds 14 patents and has over 50 publications in energy. He is past Chairman of the Board on Energy and Environmental Systems of the National Research Council, the operating arm of the National Academies, has served on a number of National Research Council committees, and is a National Associate of the National Academies. In recent years, he has focused on problems associated with the peaking of world conventional oil production and its mitigation.
Previous management positions include:
Senior Energy Program Advisor, SAIC (World oil production)
Senior Energy Analyst, RAND (Various energy studies)
Vice President of the Electric Power Research Institute (EPRI).
Vice President and Manager of Research and Technical Services for Atlantic Richfield Co. (Oil and gas exploration and production).
Founder and CEO of APTI, a $70 million/year company now owned by BAE Systems. (Commercial & Defense Department technologies).
Manager of Exxon's synthetic fuels research laboratory.
Manager of Petroleum Exploratory Research at Exxon. (Refining R & D).
Assistant Administrator of the U.S. Energy Research and Development Administration (ERDA) responsible for renewables, fusion, geothermal and basic research. (Presidential Appointment).
Director of fusion research at the U.S. Atomic Energy Commission and the Energy Research and Development Administration.
William E. Burchill, who earned his master's degree in NPRE in 1965 and his PhD in 1970, has been President of the 11,000-member American Nuclear Society since June 2008.
Burchill recently retired as Head of Texas A&M University's Nuclear Engineering Department, and said his primary objective is "to strengthen ANS' role as the preeminent technical and professional representation of the U.S. nuclear community."
The American Nuclear Society is a not-for-profit, international, scientific and educational organization. It was established by a group of individuals who recognized the need to unify the professional activities within the diverse fields of nuclear science and technology. December 11, 1954, marks the Society's historic beginning at the National Academy of Sciences in Washington, D.C. ANS has since developed a multifarious membership composed of approximately 11,000 engineers, scientists, administrators, and educators representing 1,600 plus corporations, educational institutions, and government agencies. The society is governed by four officers and a board of directors elected by the membership.
ANS core purpose is to promote the awareness and understanding of the application of nuclear science and technology. ANS is the recognized credible advocate for advancing and promoting nuclear science and technology.
Said Burchill, "Through its professional divisions, ANS must provide the broadest spectrum of technical knowledge and experience in nuclear science, engineering, and technology to be found in any professional society. Through its national meetings, topical meetings, executive conferences, and workshops, ANS must provide the most effective and efficient venues for timely exchange of this knowledge and experience. Through its publications, ANS must provide the best opportunities for critical peer review, archives for corporate memory, standards of practices, and objective policy and position statements for use by the public and decision makers. And, ANS must provide opportunities for meaningful involvement of its members at both the national and local levels."
Burchill has 37 years of experience working for an NSSS vendor, two nuclear utilities, a university, a defense facility and a national laboratory. Within ANS, he has been a member of a division program committee, seven topical meeting program committees, and two executive conference program committees. He has served as chair of two professional divisions, has served on the Board of Directors and the former Executive Committee, and has been an Executive Assistant to a vice president/president. His research interests include: nuclear power, nuclear safety, risk management, reactor regulation, reactor operations, and reactor design.