College honors NPRE alumni Zediker, Kotek for distinguished service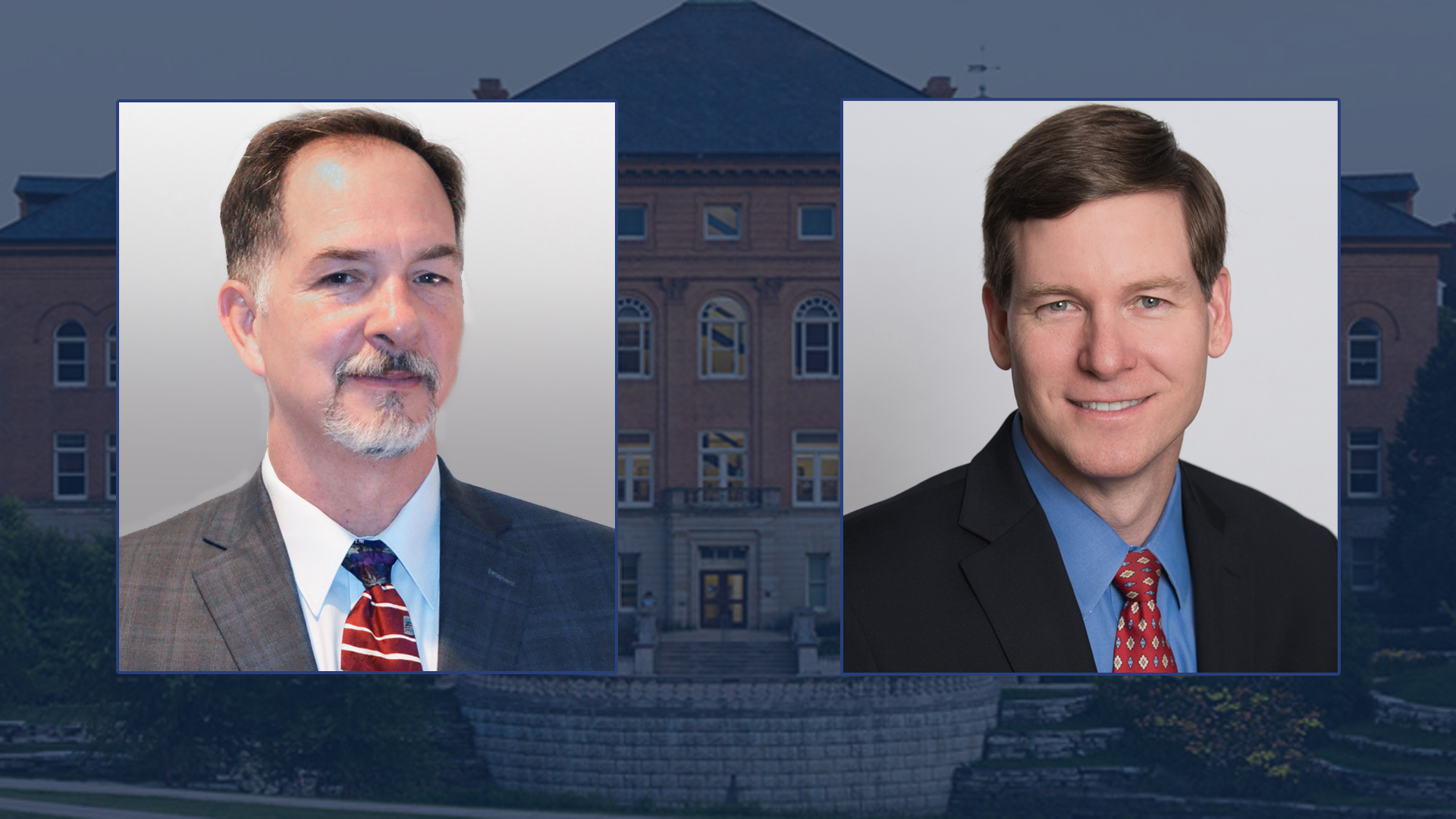 Mark S. Zediker and John F. Kotek, graduates of Nuclear, Plasma, and Radiological Engineering, are winners of the 2018 College of Engineering Alumni Award for Distinguished Service.
"Mark, with his keen ability for turning knowledge into successful entrepreneurial ventures, and John, with his significant contributions to nuclear power policy in this country, are both outstanding representatives of NPRE alumni," said Department Head Rizwan Uddin. "It is with great pride that we note that two of the College's five honorees this year are NPRE alums."
Zediker and Kotek will be recognized at the College Awards Convocation on Saturday, April 7.
Mark S. Zediker
Zediker is being recognized "for invention of the world's first industrial semiconductor laser, for pioneering contributions to the design and development of high-power laser systems for commercial applications ranging from materials processing to manufacturing to mining, and for entrepreneurial leadership that has fostered technology transfer and economic development in the United States."
As the chief executive officer and co-founder of NUBURU, Inc., Zediker leads the invention and manufacturing of the world's first high-power blue laser.
Zediker began his career at McDonnell Douglas in St. Louis in 1983, where he worked on laser communication systems and laser weapon systems. Here he developed a thorough understanding of diode laser systems, diode pumped lasers, and laser communications methods. When McDonnell Douglas merged with Boeing in 1997, the opportunity arose to expand upon diode laser technology.
In 1998, Zediker started his first laser company, Nuvonyx, Inc., which is a provider of high-power laser diode components, arrays, and industrial laser systems for materials processing and defense applications. Zediker was responsible for raising funds from corporate sponsors, venture capitalists, and government sources. He developed plans for business, marketing, hiring, personnel, acquisitions, and technology development. Nuvonyx, Inc. had 100 percent revenue growth annually over a five-year period. The prosperity of the organization led to the sale of two divisions: Nuvonyx Europe to Quantel and Nuvonyx to Coherent.
In 2009, Zediker started Foro Energy, which commercializes the application of high-power lasers for the oil, natural gas, geothermal, and mining industries. In 2010, Zediker's team received a $9.1 million Department of Energy Advanced Research Projects Agency-Energy grant to develop a high-power laser drilling system for geothermal applications.
In 2015, Zediker founded NUBURU, Inc., his third company. NUBURU developed the first-to-market class of high-power, high-performance blue lasers that led the transformation to a world of high-speed, high-quality metal machining and processing. The AO-150 is NUBURU's first product, and it is a finalist for this year's PRISM Award because of its advancement in using visible lasers for welding.
Zediker is a member of the University of Illinois Physics Advisory Board, helping with strategic development for the department. He collaborated with Illinois Prof. J.J. Coleman and his students in the Department of Electrical and Computer Engineering to write and publish more than a dozen papers between 2001 and 2004. He has edited 16 conference proceedings and published more than 200 journal papers and articles. Zediker has authored 70 patents and has 20 additional patents pending. He is also a member of several professional organizations.
In addition to having earned master's and PhD degrees from NPRE in 1983 and 1984, respectively, Zediker earned a bachelor's degree in 1978 from Engineering Physics at Illinois.
John F. Kotek
Kotek is being cited "for his dedication in shaping U.S. energy policy, and for his steadfast advocacy of the responsible use of nuclear power."
As the vice president for policy development and public affairs at the Nuclear Energy Institute (NEI), Kotek is responsible for providing policy and public affairs leadership on financial, economic, tax, electricity market, and environmental issues related to the nuclear energy industry.
He began his career with the U.S. Department of Energy in 1989, where he managed a variety of nuclear energy research and production programs. Kotek joined Argonne National Laboratory-West in 1999, and in 2002, he was selected as the American Nuclear Society's Glenn T. Seaborg Congressional Fellow. He worked under Sen. Jeff Bingaman (D-NM), who was the Chairman of the Senate Energy and Natural Resource Committee. After completing the fellowship, Kotek returned to the Department of Energy, serving as Deputy Manager of DOE's Idaho Operations Office. In this role, he was responsible for federal management of the newly-formed Idaho National Laboratory.
In 2007, Kotek became the managing partner of the Gallatin Public Affairs office in Boise, Idaho. He advised energy, natural resources, and other clients facing complex communication and government relations challenges. During this time, from 2010-2012, he served as staff director to the Blue Ribbon Commission on America's Nuclear Future, which recommended a new strategy for managing nuclear waste in the United States. And in 2012, Kotek was named to the Governor of Idaho's Leadership in Nuclear Energy Commission.
In January 2015, Kotek was appointed to the position of principal deputy assistant secretary for the Department of Energy Office of Nuclear Energy. Later that year, in October 2015, President Barack Obama appointed Kotek to serve as assistant secretary for nuclear energy, which is the country's top nuclear energy office. In 2017, he was honored with the NPRE Distinguished Alumni Award.
In addition to earning a bachelor's degree from NPRE in 1989, Kotek earned a Master's of Business Administration from the University of Maryland in 1995.
See photos from the Awards Convocation on NPRE's Facebook page.
Learn more about NPRE by checking out our YouTube videos!