Alumnus' invention could be the answer to inexpensive and clean energy
"It is real. It works," K.R. Sridhar told Leslie Stahl on CBS's 60 Minutes on Sunday night. "In five to ten years, we would like to be in every home." Sridhar, who earned his MS in nuclear engineering and PhD in mechanical engineering from Illinois, is about to make public his invention: a little power plant-in-a-box he wants to put literally in your backyard.
The "Bloom box," according to Sridhar, generates power wirelessly through a combination of oxygen and a fossil fuel, such as natural gas, bio-gas, etc. It promises inexpensive, clean energy for buildings of all sizes, without connection to the energy grid.
While skeptics questioned whether Sridhar's Bloom Energy start-up could bring this solution to a large-scale market, companies such as Google, WalMart, FedEx and eBay have already paid a premium to be early adopters of the "green" machines.

Representatives of those companies who were interviewed for the news show sang its praises regarding both the system's efficiency and ecological merits. And, according to Sridhar, smaller versions of the fuel cell—smaller than a shoebox—could power individual homes, and would be environmentally friendly.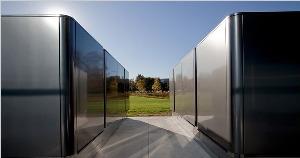 Prior to founding the company, Sridhar was a professor of aerospace and mechanical engineering as well as director of the Space Technologies Laboratory (STL) at the University of Arizona. He has successfully assembled and led major project teams consisting of strategic consortia of industry, academia, and national labs, and has served as an advisor to NASA.
While working with NASA, Sridhar developed a molecular exchange unit for producing oxygen for astronauts landing on Mars. When that mission was scrapped, he reversed the process, altering the device to produce energy instead.
If you have any questions about the College of Engineering, or other story ideas, contact Rick Kubetz, Engineering Communications Office, 217/244-7716, writer/editor.