Alumni Association recognizes Laughtons for NPRE Loyalty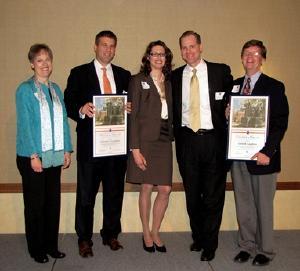 The University of Illinois Alumni Association has selected Terrill R. Laughton, BS 92, MS 96, and Deborah A. Laughton, BS 95, for the 2010 University of Illinois Loyalty Awards for Exceptional Alumni Service.
Established in 1957, this award is bestowed upon alumni who have made significant, notable and meritorious contributions, and who have consistently demonstrated exceptional loyalty, commitment, dedication and service to the University of Illinois Alumni Association for the advancement of their Alma Mater.

Terrill, currently the Director of Strategic Consulting for Johnson Controls, Inc., of Milwaukee, and Debbie, a partner in the law firm of McAndrews, Held & Malloy of Chicago, began giving back to the University of Illinois and, specifically, to NPRE, shortly after earning their degrees.
Their support has been not only in terms of financial contributions, but also, more importantly, in terms of their time commitment and grassroots efforts to raise the consciousness of fellow NPRE alumni. Debbie has served on NPRE's Constituent Alumni and Industry Advisory Board for several years. She and Terrill, together with NPRE alumnus Mike Giacobbe, BS 91, MS 95, PhD 99, a 2008 Loyalty Award winner, organized a network of fellow alums to create the Catherine Pritchard Scholarship Fund, the first undergraduate award within NPRE. Once that was fully funded, the couple turned their attention to endowing the Barclay G. Jones Fellowship, establishing the first fellowship to be held entirely within NPRE.

The Laughtons and Giacobbe, along with fellow alumnus William L. Myers, BS 85, MS 90, PhD 95, forged a letter-writing campaign, urging all NPRE alumni to contribute. Not only did the Laughtons lend their names to the letters, but they also participated in monthly teleconferences with NPRE administrators to strategize on the campaign, and made follow-up calls to key contributors. Thanks in large part to their efforts, the endowment goal has been reached, enabling NPRE to announce the first Jones Fellow at this year's Honors Banquet!

Noting his friends' unswerving support for Illini athletics, Giacobbe said, "The devotion the Laughtons possess for supporting the academic objectives of the University is even more impressive. (The Jones Fellowship) is an amazing accomplishment that will strongly support the continuation of academic excellence in NPRE. In addition, the significance of the fund extends beyond monetary support, as it sends a message to the general community regarding the importance an NPRE education has for the development of students and industry professionals."
"In a nutshell," Giacobbe concluded, "the blood that runs through the Laughtons is orange and blue."