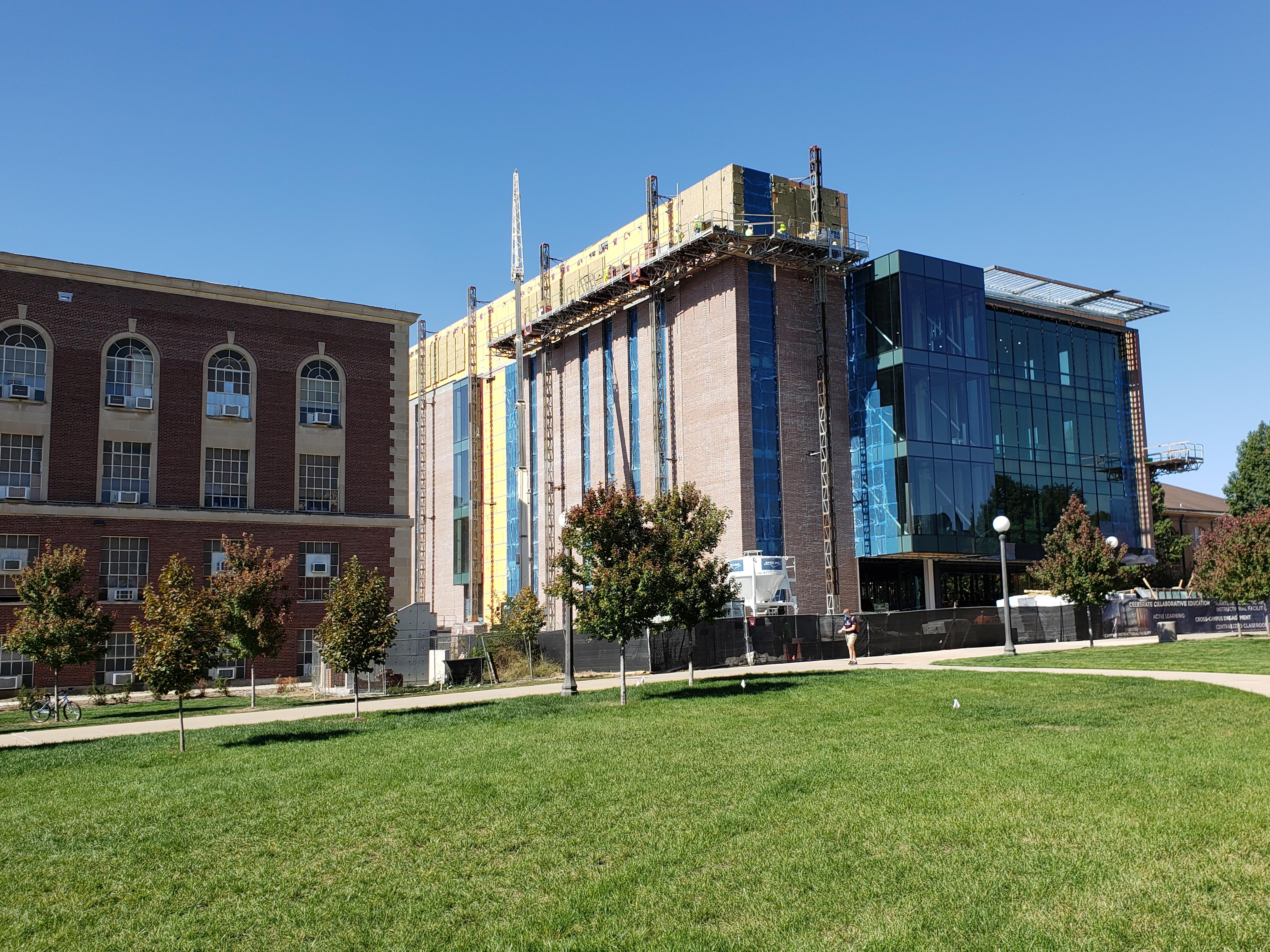 Neumann hopes to give students better 'View' at Campus Instructional Facility
Martin Neumann had a vision for giving back to the University of Illinois. It just happened to include actually helping students see better.
Neumann (BS '99, MS '03, PhD '07)—who serves on NPRE's Alumni Board and is an adjunct instructor in the department—is the Senior Vice President of Operations at View, a company that produces Smart Windows. "If you've seen people with Transitions lenses in their glasses, it's very similar to that," he said. "This is glass that automatically tracks the sun. There's a see-through computer chip on top of the glass that automatically tracks the sun and tints, so you don't need blinds or shades, sort of like sunglasses for a building."
View Smart Windows comprise most of the windows on the new $75 million Campus Instructional Facility, located just north of Talbot Laboratory, at the corner of Springfield and Wright streets. First classes are expected to be held there by Fall 2021.
There are two main advantages that the windows present for the building's occupants. First and foremost are the health and wellness aspects. The technology in the View Smart Windows maximizes daylight while eliminating glare, which reduces eye strain, headaches, and sleepiness.
That claim is backed up by science. A study conducted by View and led by University of Illinois architecture professor Mohamed Boubekri found that people in offices with View windows slept about 37 minutes longer at night and scored 42 percent higher on cognitive tests.
The second advantage is from an energy perspective. The windows reduce the heat load in buildings, making temperature regulation easier and adding usable space. "You can use more of the space when you don't have to account for blinds and the extra heat coming in the windows," Neumann said.
The technology is based off Neumann's PhD research and is an extension of the kind of research happening in NPRE and The Grainger College of Engineering. "In many ways, this is what the College preaches and wants graduate to do, to take the knowledge and learning from campus and innovate throughout the world," he said. "When I was on campus doing basic fundamental research in David Ruzic's lab, this is what we focused on, this lithium-material interaction."
"From there, I joined View to develop a new project. We took it from concept to reality. It just naturally made sense to bring this back to campus. I think of this as a full-circle moment that is based on basic R&D that was done on campus."
The construction of the CIF involves several Illinois alumni. The main builders of the CIF, Chicago-based Vermillion Development is led by U of I alums Dave Cocagne (President/CEO) and Kerry Dickson (Managing Director).
View also employs Illinois alumni who were involved in this project, including Eithan Ritz ('05 MIE, '11 NPRE), Aaron Cook ('00 USP), Joshua Ord ('06 AAE), and Xin Niu ('15 MIE).
"I hope the building continues the legacy of The Grainger College of Engineering having some of the most advanced facilities in the world that can attract and retain top talent," Neumann said. "I hope it provides a tremendous learning environment for a new generation of researchers. I hope it can be used an example for other graduates for what you can do at Illinois."
For more on this, go to https://go.npre.illinois.edu/campus_instructional_facility.