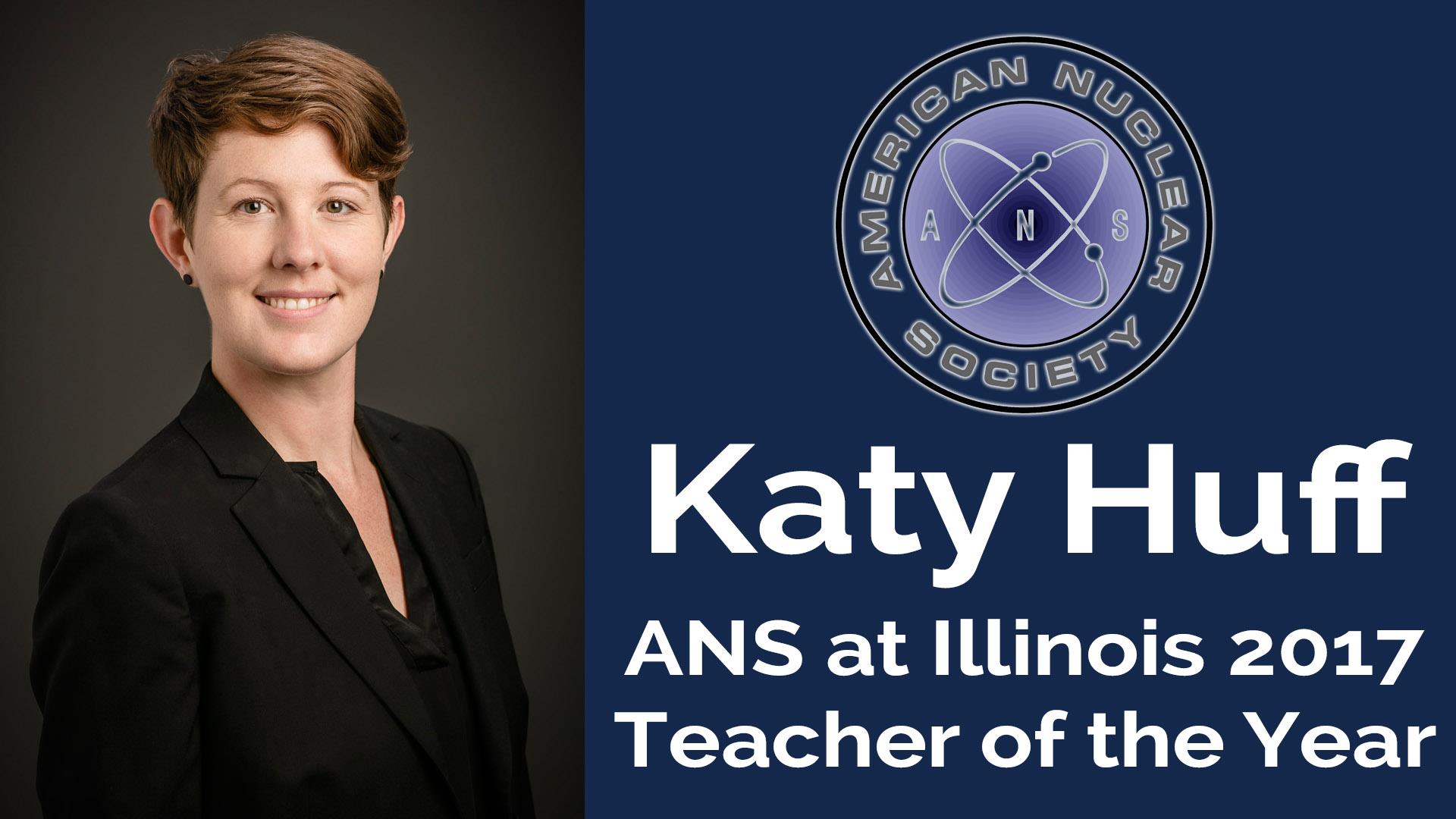 Kathryn Huff earns ANS at Illinois Teacher of the Year Award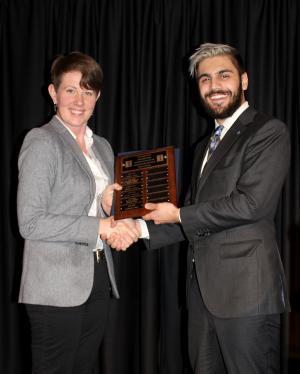 The
American Nuclear Society at Illinois
student chapter has recognized newcomer
Kathryn Huff
as 2017 Teacher of the Year.
Huff has hit the ground running since joining Nuclear, Plasma, and Radiological Engineering at Illinois as an assistant professor in August 2016.
"In the short time she has been here at Illinois she has already taken on the role of our student section's advisor and has demonstrated an amazing ability to connect and educate her students through the addition of technology in the classroom," said Aristidis Loumis, ANS 2016-17 student chapter President. "(Dr. Huff) is very present, accommodating, passionate and it shows in the classroom. I think any teacher in an engineering field could take a few notes out of her book."
In Fall 2016, her first semester teaching NPRE 412, Nuclear Power Economics & Fuel Management, Huff was included in the List of Teachers Ranked as Excellent by Their Students. Spring 2017 teacher rankings are not yet available.
As the ANS at Illinois faculty advisor, Huff has devoted significant energy to the student group, including encouraging members' civic involvement at a time when Illinois state lawmakers considered legislation needed to continue operations of two nuclear plants. The legislation succeeded in December 2016.
Huff joined the students on trips to Chicago to advocate for the legislation, as well as educational trips to Clinton Nuclear Power Station, Argonne National Laboratory's Advanced Reactor Summit and Oak Ridge National Laboratory.
She also accompanied the students to the national 2017 ANS Student Conference held in Pittsburgh. The Illinois group's large attendance as well as excellent showing in leadership and research presentations earned an honorable mention for the 2017 ANS Samuel Glasstone Award, recognizing the society's most outstanding student section in the country.
Huff has been active in ANS since her own student days. She was recognized with the society's Young Member Excellence Award in 2016.
Her research in NPRE covers challenges including nuclear fuel cycle technology strategy, energy policy, repository safety, and reactor physics. Huff's work involves modeling and simulating both the nuclear fuel cycle and advanced reactor designs.