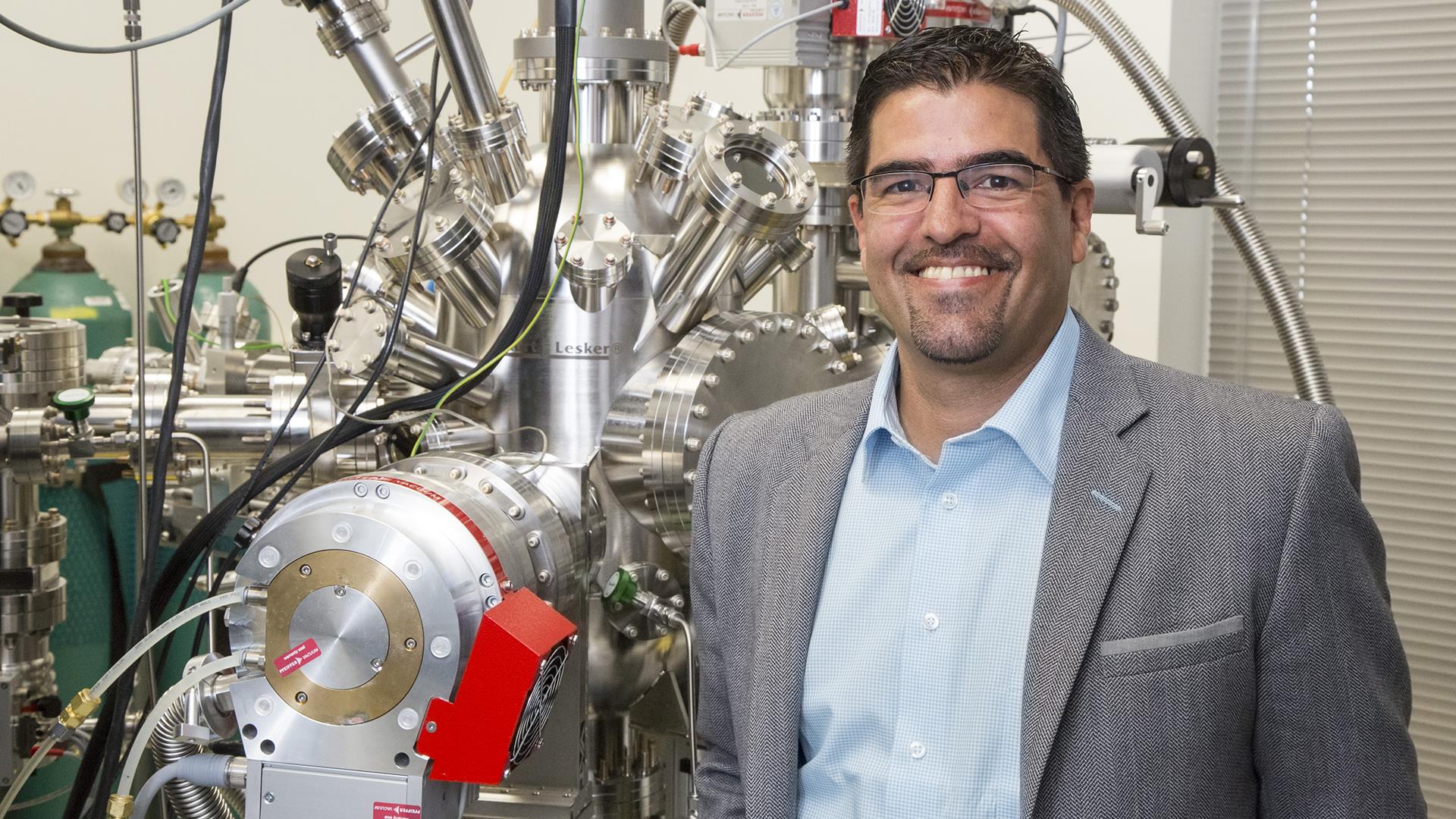 Allain selected as Faculty Entrepreneurial Fellow to innovate bioactive interfaces
The College of Engineering at Illinois chose J.P. Allain, a Nuclear, Plasma, and Radiological Engineering faculty member, for the Faculty Entrepreneurial Fellows program this fall.
The program allows faculty to rotate out of the classroom and other service to the university for at least a year to focus on taking a developing technology and evaluating its commercial potential. Fellows direct students in conducting experiments, building prototypes, visiting potential customers, studying the market, conducting proof-of-concept research, and growing entrepreneurial opportunities.
The course teaches students commercialization of plasma technology to improve biomedical implants. Several engineering students will learn what it takes to form a startup company when they go through the process of developing and commercializing plasma technology that Allain, an associate professor, has in mind for improving orthopedic, dental and spinal cord implants.
Allain and three graduate students will mentor the seven undergraduates who will divide into teams to build the prototype and conduct customer discovery and market research. "We need to gain an understanding of the value chain around bioactive interfaces," he said. "It's the innovation that we're trying to accelerate."
The prototype team will build a plasma source that can interface and modify the surface of biological implants. "We induce nanopatterning and nanostructuring to implant interfaces such as dental implants, prosthetics and orthopedics," Allain said. "If a hip is fractured, that device may not adhere very well and can be extremely painful to the patient. It's better to integrate it to the bone.
"The gap that we're addressing is being able to apply 3D geometry to modify surfaces that are complex. We can change a single source surface to provide different functions."
A plasma source can make varying modifications to separate regions of a material so that each region carries out a specific job, or the source can separately modify differing materials used on the same implant.
One of the teams in Allain's course will focus on dental implants. "One of the biggest challenges is to innovate the surface without changing the chemistry," Allain said. "We need to have a physical interface at the nanoscale so that (the implant) integrates with bone and can work with antibacterial surfaces."
Another team will build their work around implants for prosthetics and orthopedics. "We will work with neurosurgeons that are experts in spinal cord injury and with people who are working with maxi facial implants," Allain said.
University of Chicago Booth School of Business MBA students will advise the teams on marketing strategy. "The MBA students can provide methodology and tools for how to study this and what to look for," Allain said. "Even with the best implant, we won't be able to enter the market until we understand how to price (the product), and the impact of competition."
Allain's fourth team will examine the commercialization possibilities the technology may have for other disciplines, including energy, tooling and aerospace industries.
Allain formed his own startup company in 2012 based on technology he had developed, and is eager to pass that knowledge on to students. "I'm passionate about innovation," he said. "I think when I looked at the work that was coming out of my research lab, I didn't want that work to just end up in journal papers. I wanted what we were advancing to impact people."