Allain Gains Fulbright Award for Colombian Collaboration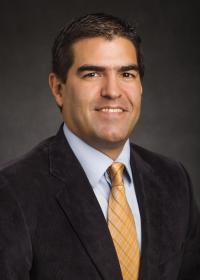 NPRE Associate Prof. J.P. Allain has been awarded the 2015-2016 Fulbright-Colciencias Innovation and Technology Award for a project in Colombia in South America.
His project is aimed at boosting collaborations with Colombian scientists while developing functional nanomaterials for biotechnology and energy applications. Colombia's Colciencias national agency for science, technology and innovation co-sponsors the project. Allain will continue to enhance relationships he established a few years ago with the Universidad de Antioquia (UdeA), located in Medellin, Colombia. A memorandum of understanding with that university was signed in 2014.
Allain has been working with UdeA scientists in the area of directed plasma nanosynthesis (DPNS). He and his research group have been developing this technique for various advanced multi-functional materials synthesis in areas of biomaterials and energy since he joined the NPRE faculty at Illinois in 2013.
Together, NPRE and Colombian researchers will work to design a compact, low-cost DPNS processing tool that can enable innovation in key technical areas of interest to Illinois and the UdeA, including: biomaterials, regenerative medicine, catalytic materials, nanomaterials for solar energy, and biosensors.
The scientists will use DPNS to enhance and repurpose industrial waste typically found in the country's landfills. "The waste contains sulfur and iron residue and they can become the materials for solar energy," Allain maintains.
DPNS also can enable the creation of novel materials that provide a bioactive interface to enhance tissue reconstruction, while sensing the tissue's rate of healing. The scientists will consider biological examples such as special species of salamander in Colombia to observe how their cells grow, produce and proliferate, gaining insight into biomimetic functionality, Allain said.
As part of the project, Allain and his collaborators plan to organize in Colombia a two-week summer course focusing on technical applications of DPNS, fundamentals in plasma processing technology, and best practices for technology transfer. A three-day, international workshop on plasma engineering of advanced nanomaterials for energy and medicine will follow the two-week course. Both will be offered to Illinois students as well as UdeA students, creating a potential bridge of students to help diversify NPRE's graduate school program, Allain believes.
A native of Colombia, Allain and his family relocated to the United States when he was a child. He describes the country as one ripe for growth in technology and industry, with its future hinging on transferring innovation into application. Colombia is striving to evolve its research efforts, he believes. "It's that change in perspective that directly feeds into the research."
The Fulbright Program aims to increase mutual understanding between the people of the United States and the people of other countries, and it is the U.S. government's flagship international educational exchange program. The University of Illinois at Urbana-Champaign is among the top producers of U.S. Fulbright Scholars and Students, according to The Chronicle of Higher Education.
Allain believes his project works well with the Fulbright Program's goals. "I see this award as seeding the beginning for a long-term relationship with Colombian scientists."