Uddin recognized for Graduate and Professional Teaching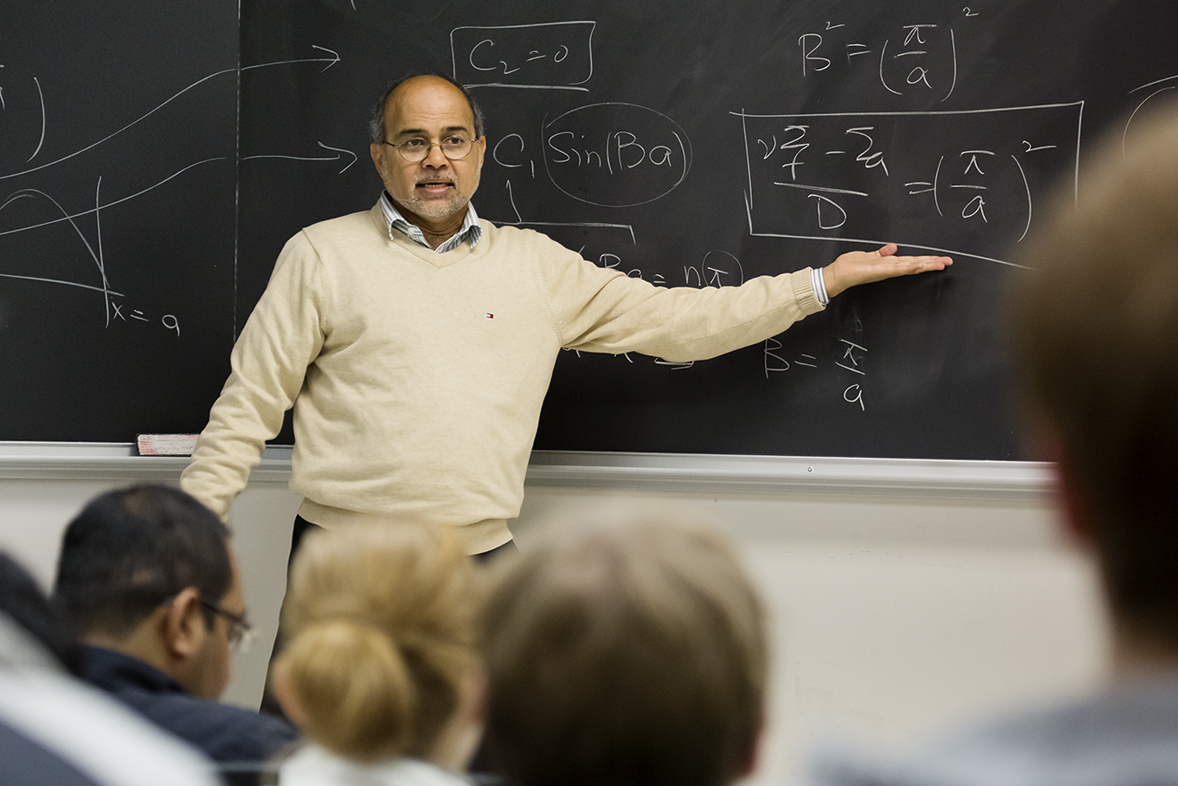 The University of Illinois at Urbana-Champaign will recognize Prof. Rizwan Uddin with the 2018 Campus Award for Excellence in Graduate and Professional Teaching.
Uddin, who will receive the award in the Celebration of Teaching Excellence ceremony to be held April 12, has been included in the university's List of Teachers Ranked Excellent by Their Students every year since he began as an assistant professor at Illinois in 1996. The American Nuclear Society Illinois student chapter chose him 11 times for NPRE's annual Excellence in Undergraduate Teaching Award.
His impact in graduate teaching has resulted in three of his students being chosen as winners of the annual ANS Mark Mills Award. The national competition recognizes the graduate student author who submits the best original technical paper contributing to the advancement of science and engineering related to the atomic nucleus. Uddin won the Mark Mills Award himself in 1987.
An ANS Fellow, Uddin was recognized with that society's 2016 ANS Arthur Holly Compton Award as well as the 2015 American Society of Engineering Education's Glenn Murphy Award for his teaching and research accomplishments. He was honored in Spring 2017 with the Urbana campus Award for Excellence in Guiding Undergraduate Research.
Credit for my passion for teaching probably goes to some of my own teachers who clearly showed their enthusiasm in the classroom, making the act of teaching look noble as well as fun. ...I have come to realize that remembering what it was like to be a student helps in becoming a good teacher in the classroom. – Rizwan Uddin
An NPRE alumnus, Uddin has made seminal research contributions in modeling and simulation of reactor engineering problems. His contributions also include pioneering work in the use of 3D immersive, virtual reality systems and computer games for education and training in the nuclear field. He directs the Virtual Education and Research Laboratory in NPRE.
Uddin became NPRE Department Head in August 2017. For the past two years, he has directed the Master of Engineering in Energy Systems Program and the Energy and Sustainability Engineering (EaSE) Council.
Uddin earned his master's degree and PhD in NPRE in 1983 and 1987, respectively. He earned a bachelor's degree in mechanical engineering in 1980 from the Middle East Technical University in Ankara, Turkey.
Learn more about NPRE by checking out our YouTube videos!