ANS honors Zahra Mohaghegh with Mary Jane Oestmann Professional Women's Achievement Award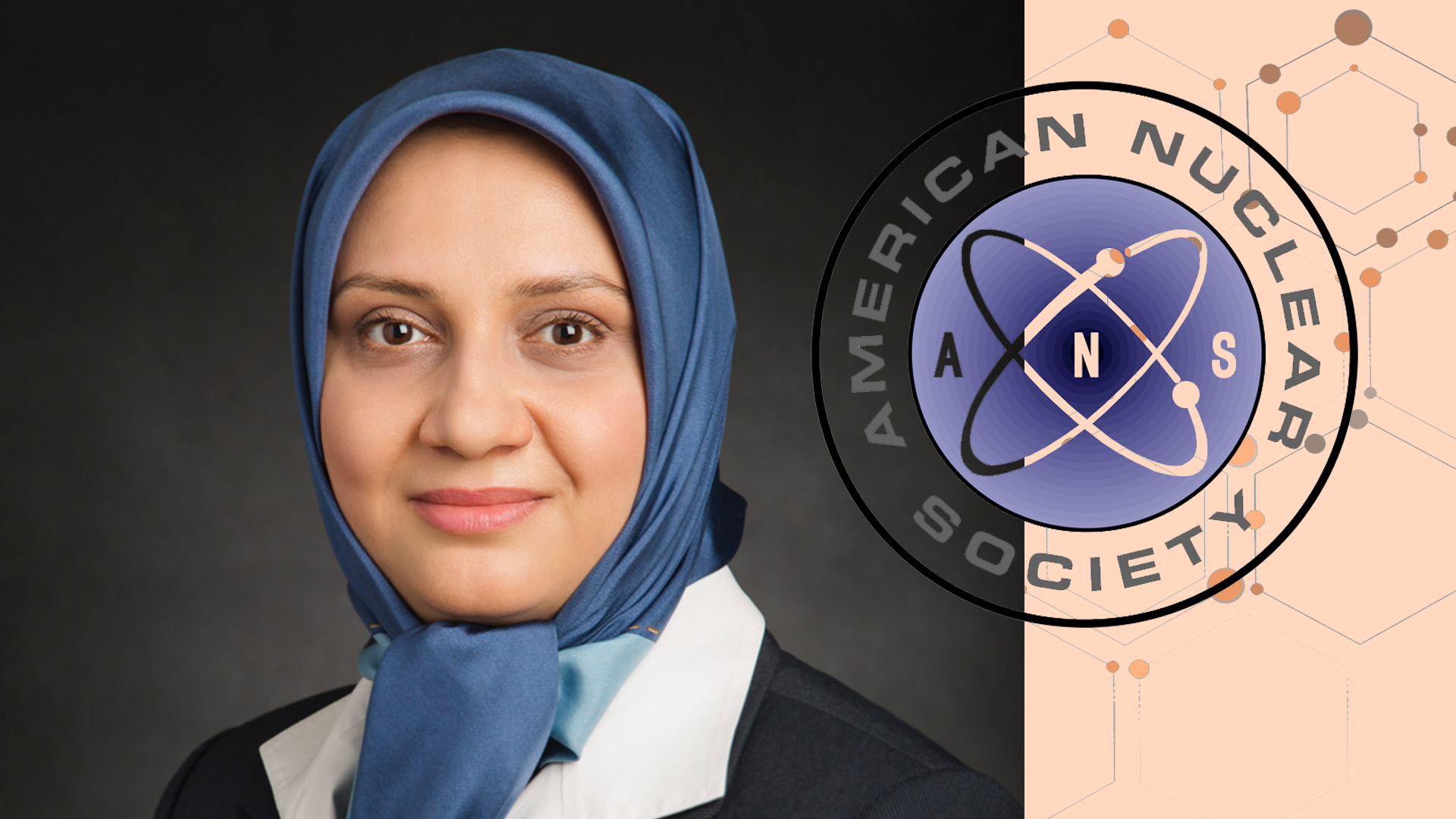 Assistant Prof. Zahra Mohaghegh is the 2016 winner of the American Nuclear Society Mary Jane Oestmann Professional Women's Achievement Award.
A member of the faculty in Nuclear, Plasma, and Radiological Engineering at Illinois, Mohaghegh is cited for her leadership, entrepreneurship, substantial multi-disciplinary research and scholarly contributions in the area of probabilistic risk assessment (PRA). She is noted for her pioneering introduction of human and organizational factors in PRA of socio-technical systems in nuclear and other fields.
Prior to joining NPRE's faculty in January 2013, Mohaghegh established her expertise through Soteria Consultants, LLC, a risk management consulting firm she founded in 2010 in Boston after earning her PhD from the University of Maryland. The company initiated a multi-year, large-scale collaboration with the South Texas Project Nuclear Operating Company, and Mohaghegh brought the project with her to Illinois.
In the Socio-Technical Risk Analysis Research (SoTeRiA) Laboratory Mohaghegh has since established in NPRE, she and her graduate students develop new approaches for advancing PRA. They have been involved in the risk-informed resolution of Generic Safety Issue 191, a long-standing issue for commercial nuclear power plants and the Nuclear Regulatory Commission. Her research laboratory focuses on two key areas of scientific innovation: (1) spatio-temporal causal modeling of underlying social and physical failure mechanisms in PRA, and (2) the incorporation of big data analytics into PRA.
Mohaghegh is a recipient of a five-year National Science Foundation (NSF) grant for Big Data Analytics in risk assessment, the 2016 Engineering Council Award for Excellence in Advising, the 2015 Dean's Award for Excellence in Research from the College of Engineering, the George Apostolakis early-career award in risk assessment, and the Zonta International Award for her contribution to modeling large-scale complex systems.
Mohaghegh was the technical chair for the ANS Risk Management topical meeting in November 2013. In March 2015, she and her research team developed and presented the U.S.-China Probabilistic Safety Assessment Workshop on "Risk-Informed Regulation and Safety Culture" in China, as part of the U.S. Department of Energy's Peaceful Uses of Nuclear Technology (PUNT) program. She is the author of a book and over 40 conference and journal publications on risk analysis.
Mohaghegh has developed and taught undergraduate and graduate courses in PRA across engineering disciplines and to non-engineering students. Furthermore, the SoTeRiA Laboratory has initiated collaborations with national and international research institutions and has plans to expand socio-technical collaborations to achieve tailor-made solutions for high-risk operations around the world.
The Oestmann award of the 11,000-member ANS recognizes outstanding personal dedication and technical achievement by a woman in the fields of nuclear science, engineering, research or education.