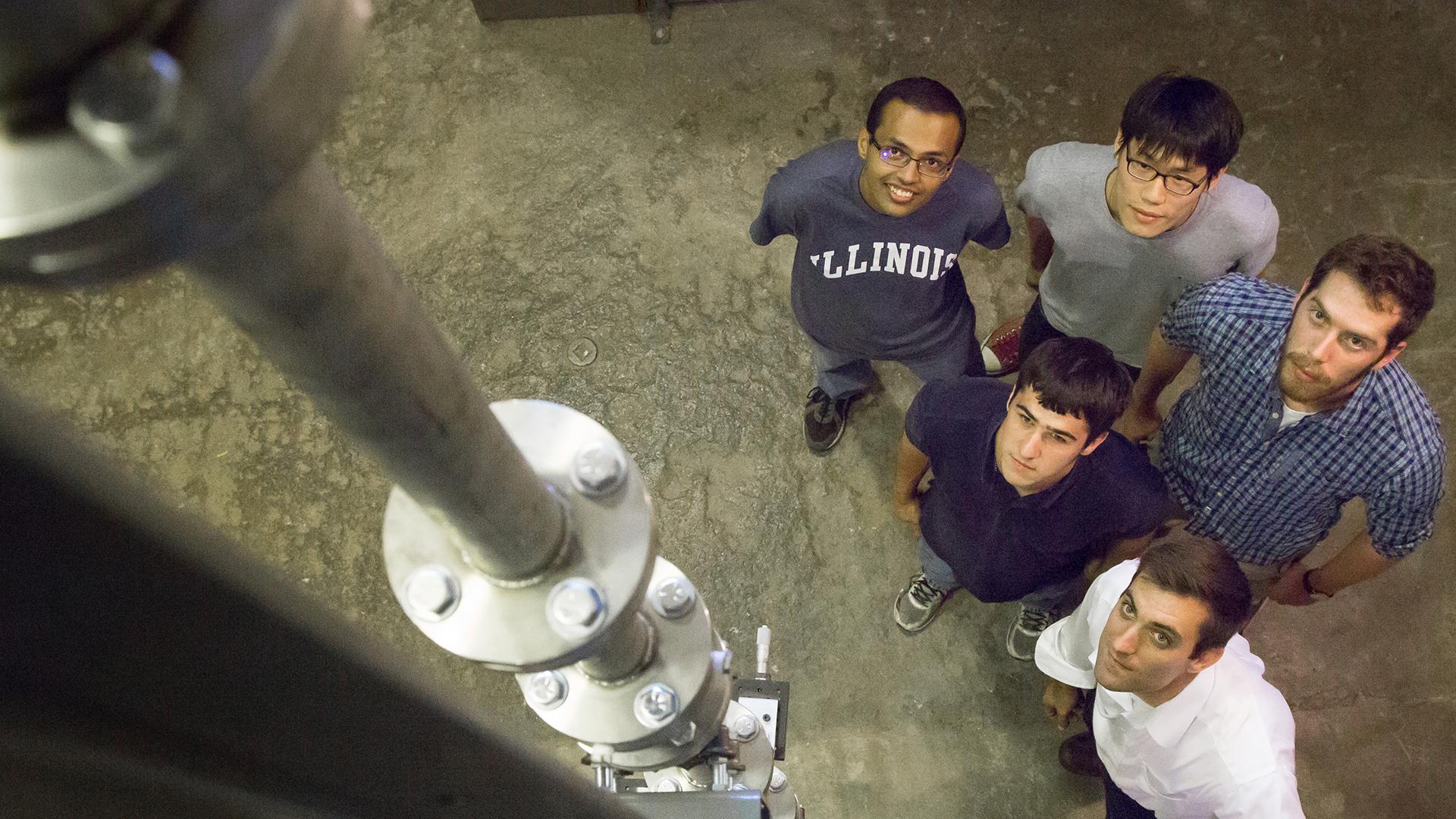 Named NPRE Fellowships allow graduate students to concentrate on research
Named fellowships made possible by the financial support of alumni and friends of Nuclear, Plasma, and Radiological Engineering have allowed two students working in nuclear power and a third working in plasma/fusion technologies to focus on their research.
Zhiee Jhia Ooi, the Barclay G. Jones Endowed Fellow, and Vineet Kumar, the Felix T. Adler Fellow, both work with NPRE Assistant Prof. Caleb Brooks in the Multiphase Thermo-fluid Dynamics Laboratory. Rabel Rizkallah, who has been awarded the inaugural Nguyen Thi Cuong Fellowship, works with his advisor, Research Assistant Prof. Daniel Andruczyk, on the HIDRA plasma/fusion facility in the Center for Plasma-Material Interactions.
Ooi, a third-year graduate student, earned a bachelor's and master's in NPRE in 2016 and 2017, respectively. He is conducting research that includes "experiments for the validation of IATE in condensing-flashing flows, leading and conducting two-phase, natural circulation experiments for the validation of RELAP-7, and designing and constructing experimental facilities to study the variability of wall nucleation characteristics on a heated surface."
Kumar, a fourth-year doctoral student, earned a bachelor's and a master's in mechanical engineering from Sri Venkateswara College of Engineering in Tamil Nadu, India, in 2009, and Purdue University in 2012, respectively. He currently is working as an ASTRO intern in thermal-hydraulics at the Oak Ridge National Laboratory. Thanks to the fellowship, he was able to focus on his research and present a paper at the last winter meeting of the American Nuclear Society, and get his work published in the
International Journal of Heat and Mass Transfer
.
Rizkallah earned bachelor's degrees in mechanical engineering in 2015 and in physics in 2016, both from Notre-Dame University in Louaize, Lebanon. His work concentrates on "the possibility of using liquid metals such as liquid lithium on the first wall of fusion devices." The third-year graduate student has delivered numerous presentations, leading to trips to Milwaukee, Wisconsin, to the 59th Annual Meeting of the American Physical Society's Division of Plasma Physics, as well as to Barcelona, Spain, for the 3rd International Conference on Control, Mechatronics, and Automation.
"Receiving this fellowship motivates me to keep up the good work and push my research forward," Rizkallah said.