ANS Student Chapter awards Teacher, Staff Member of the Year
The American Nuclear Society student chapter at the University of Illinois at Urbana-Champaign has chosen Associate Prof. Davide Curreli and NPRE Department Head and Professor Rizwan Uddin as the 2019 co-winners of the NPRE Students' Award for Excellence in Undergraduate Teaching.
The student organization chose communications specialist and alumni coordinator Susan Mumm for the 2019 NPRE Staff Award.
Winning the honor for the first time since joining NPRE as a faculty member in 2013, Curreli taught NPRE 421,
Plasma and Fusion Science
, in the Spring 2019 semester. Curreli has been listed several times among Teachers Ranked As Excellent by their students.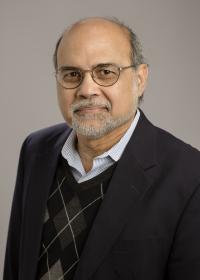 Uddin has been included on the List of Teachers Ranked Excellent nearly every semester he has taught since he began at Illinois in 1996. He has been chosen as the NPRE Teacher of the Year over a dozen times. In Spring 2019 Uddin taught NPRE 455,
Neutron Diffusion and Transport.
Mumm's duties include producing publications, website, and social media material; coordination of the NPRE Constituent Alumni and Industry Advisory Board; advancement efforts; and awards nominations for alumni and faculty.
She began working for the former Department of Theoretical & Applied Mechanics at Illinois in 1993. She split her time between NPRE and the Aerospace Engineering Department before joining NPRE 100 percent time since 2018. Mumm earned a master's degree in journalism in 1992 at Illinois.