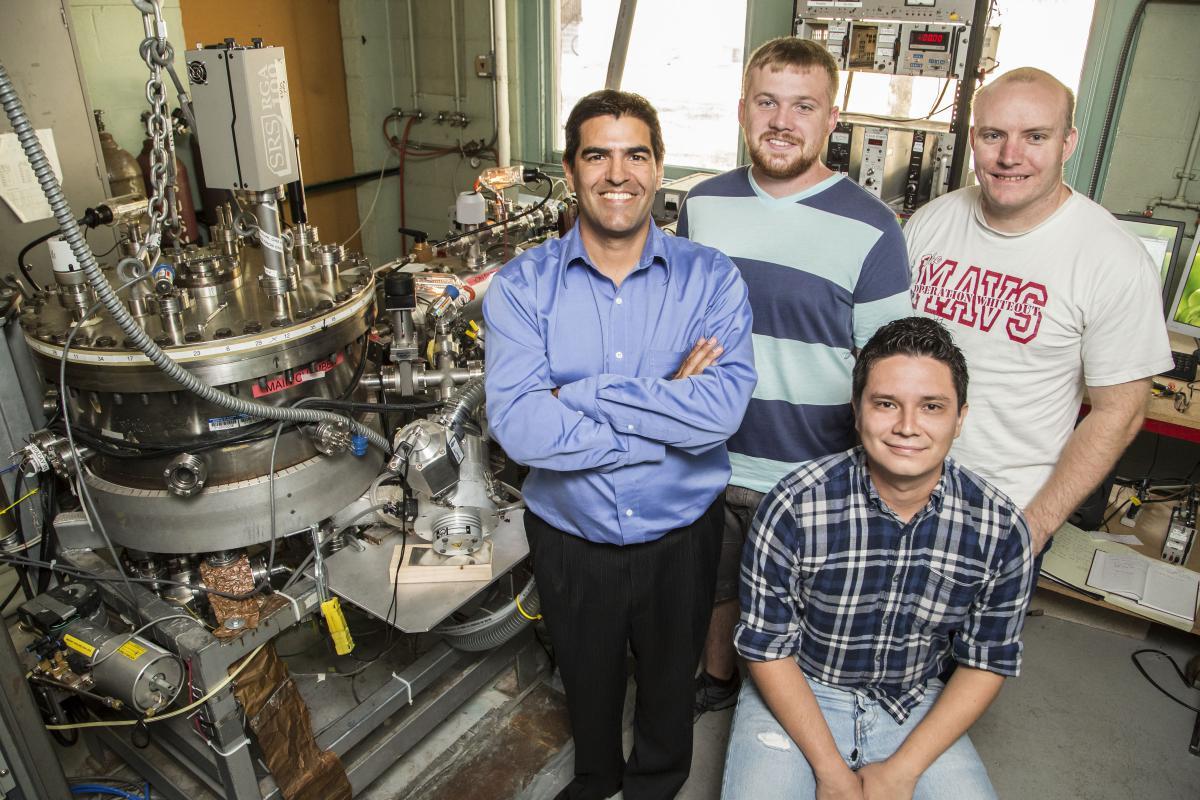 Allain Returns to Alma Mater to Grow NPRE's Plasma-Fusion Focus
Alumnus and new NPRE Associate Prof. Jean Paul Allain smiles broadly when talking about coming home to his Alma Mater.
"Knowing the engineering culture here at Illinois and the excellent quality of our students, it's great to be back at the Orange and Blue!" said Allain, formerly on the nuclear engineering faculty at Purdue University.
His addition, along with that of new Assistant Prof. Davide Curreli, an expert in plasma modeling and computations, are greatly appreciated by veteran NPRE Prof. David Ruzic, Abel Bliss Professor of Engineering and Director of the Center for Plasma Material Interactions (CPMI). The three faculty comprise a strong backbone for NPRE's programs in plasma and fusion technology.
"Our visibility should go up dramatically," said Ruzic. "(The additional faculty) should be a great draw for graduate students. (Previously,) we have had to turn some students away and, now, when they apply, there might be more options for them."
Said Allain, "David (Ruzic) has the Center with plasma; I bring strong coupling of materials and plasma so we complement each other well. With David and Davide (Curreli), we should be able to put together some very nice projects with plasma, materials and computations."
Serving as an Associate Director in CPMI, Allain is bringing with him to Illinois five graduate students: three in NPRE, and two in the Bionengineering Department, in which Allain is an affiliate faculty member. Included among his research interests are
Ion-driven surface nanostructures on metals, semiconductors and polymers
Advanced nanostructured biointerfaces for regenerative medicine
Plasma-surface and materials interactions in fusion devices
Multi-scale computational surface physics
In-situ surface characterization techniques
Engineering design for global social impact
Allain earned his MS in 2000 and PhD in 2001 under Ruzic's direction, with the doctoral thesis, "Kinematic and Theormodynamics Effects on Liquid Lithium Sputtering." He earned a BS in 1996 in mechanical engineering at California State Polytechnic University.
Since his graduate student days, Allain gained experience as a researcher working on problems from nuclear fusion materials science to nanolithography at Argonne National Laboratory (2003-2007), and followed that by establishing the Radiation Surface and Interface Science Laboratory at Purdue starting in 2007. The thrusts for that lab were the study of nuclear fusion and plasmas interacting with materials surfaces; directed radiation synthesis; and advanced in-situ probing and manipulating techniques at the nanoscale.
By 2008, Allain became an associate faculty member of the Birck Nanotechnology Center at Purdue, and plans to engage with the Micro & Nanotechnology Laboratory here at Illinois.
"My intention is to open up more avenues of collaboration within the College (of Engineering at Illinois) and outside of it," Allain said. "I want to elevate what my group does to another level, and Illinois is where we can do that."
He stresses that while the traditional association of nuclear engineering is with the production of power, his research is breaking new ground in novel and emerging areas. Allain's work encompasses an overlap of nanotechnology, materials science and nuclear engineering.

"I'm more interested in high-risk, high pay-off areas," Allain said. "There's a lack of fundamental understanding on the mechanisms of how irradiation in the form of energetic particles or other excitation source can be used to control patterning and self-organization at the nano-scale on surfaces and interfaces. In particular developing a new class of materials through irradiation-directed synthesis establishing the field of irradiation surface and interface science. It's frontier-type work, looking at applications 10-15 years down the road."
In addition to applications in nuclear materials science, quantum computing and nuclear detection, radiation-modified surfaces play an integral role in the biomedical area. "We can actually use radiation to apply special surfaces that would be both biocompatible and exhibit function in ways never thought of before," said Allain. "This technology is especially useful in manufacturing stents at the nanoscale to promote arterial wall growth for patients who've suffered brain aneurysms." These novel materials would also open the door to localized imaging and detection of cancer cells.
Allain has been published in over 80 peer-reviewed journals, and his research efforts have earned him considerable recognition. Argonne presented him with the lab's highly competitive Distinguished Performance Award each year from 2003-2006, and he earned a U.S. Department of Energy Office of Science Early CAREER Award in 2010. Purdue named Allain a Paul Zmola Young Scholar from 2008-2013, nominated him for candidacy to participate in the National Academy of Engineering's 2009 U.S. Frontiers of Engineering Symposium, and presented him with the 2011 Excellence in Research Award. He chairs the Institute of Electrical and Electronics Engineers (IEEE) Nuclear and Plasma Sciences Society Executive Committee for Fusion Technology.
Allain established his teaching prowess early in his career at Purdue when he was named the Best Teacher of the Year in 2008. He is teaching plasma engineering at Illinois, and looks forward to working with the students.
"Here, people are willing to help students focus, and student training and access to advanced facilities is also very unique," Allain said.